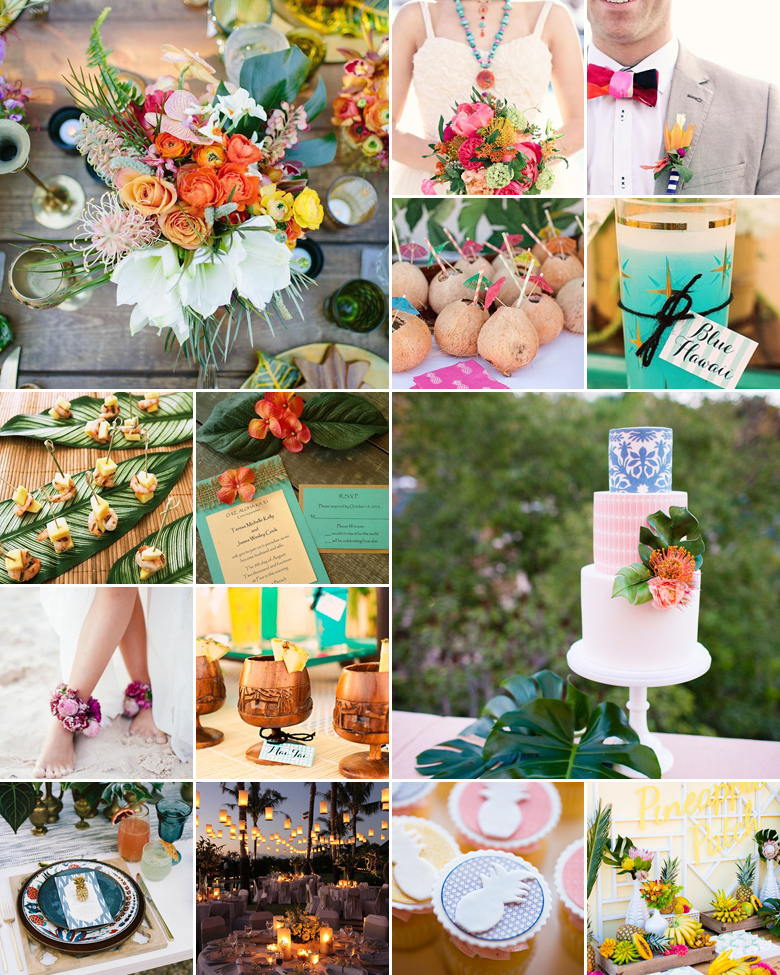 This theme is not to be confused with the tropical island style wedding themes we've covered in the past. Retro tropical is a whole new trend that's taken the décor and fashion world by storm, and we're smitten!
Putting a vintage pin-up-style twist on pineapples and banana leaves, the theme combines island elements with décor straight out of your grandmother's living room. It's quirky yet stylish without being too over the top.
The real charm lies in the hushed almost faded shades of colours we've come to associate with exotic themes – muted greens with mustard yellows on faded tan and cream. Texture will also play a big role, so opt for raw fabrics like cotton and linen. It's really as simple as finding simple, charming elements and combining them with nostalgic flair:
Instead of flowers, consider old school plants like delicious monsters and ferns for your bouquets and table arrangements.
For an extra splash of fun, bring out the pink flamingos and plant them down the sides of the wedding aisle.
Quirky pineapples are a must so keep an eye out for cheeky ceramic and gold plated pineapple ornaments, and use pineapple designs for your stationery and napkins.
Serve delicious island punch with a kick in old school punchbowls and cups.
Steer clear of plastic and rather go for simple vintage wooden chairs and tables.
Dress your bridesmaids in floral print dresses with a lovely quirky vintage cut.
Original images and their credits available on Pinterest