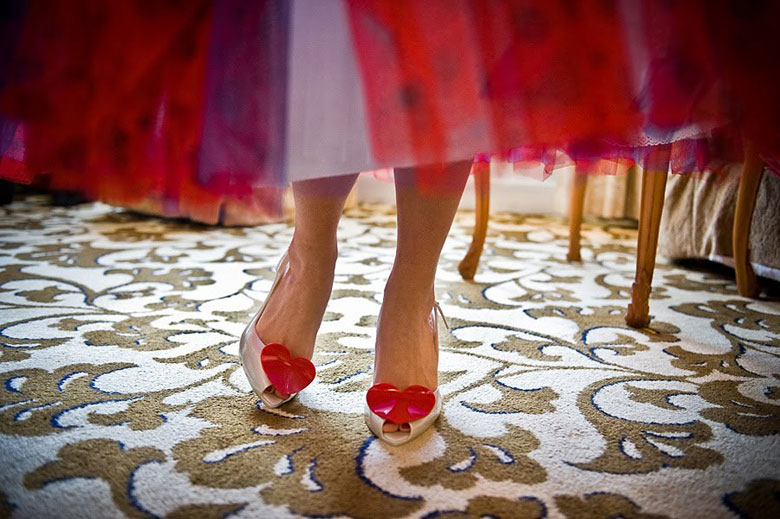 There is no better way to show your true love how you really feel than to marry them on Valentine's Day. No other date has the same magic, romance or heart-thrilling excitement as the 14th of February. A Valentine's Day wedding theme doesn't have to just equal hearts and candies with little messages think about a twist that you can add to celebrate your special occasion in a unique manner. The wedding ceremony should be intimate, so use candles in elegant candelabras or beautiful glass holders, to keep illumination low and to create the most romantic atmosphere.
Use lots of lace, heart motives and ribbons for the invitations and send them in red envelopes with heart-shaped confetti sprinkled inside to stir up a bit of excitement among the guests. Even though red roses are the most popular flower choice for a valentines wedding theme all flowers actually suggest romance, so have them in abundance. Create a valentine mood at the guests' tables with silver dishes that have been filled with mini heart candies, which bear different declarations of love and affection.
Get a professional calligraphist to inscribe your place cards with a famous love poem or a romantic quote. Add a heart shaped frame with pictures of the couple together and a beautiful overflowing vase of cascading flowers to finish off the table decorations.
Your Valentines' menu should include foods that are associated with love, like oysters, strawberries and of course chocolate – chat to your caterer for some more tips and ideas. Chocolate actually contains the same chemical your brain releases when you fall in love, so it is a perfect match for a valentines theme. Additional little extras like a sign for the punch bowel saying "luv potion" will add that fun, playful touch to the whole event and make it less serious.
A great way to include your guests in this special occasion is to have them write personal little messages in gold on red or pink paper. Create a heart-shaped box that the guests can fill throughout the actual ceremony. Keep these special messages as a surprise for the couple before they leave the function or you can read them during the reception as a special highlight.
When your wedding is held on Valentine's Day, the colours are pretty much predetermined by the holiday already. After all, it is considered to be the most romantic day of the year and red is the most appropriate colour to symbolise passion and love. Pick a design theme that suits your personality. It doesn't matter if you choose decorations to create a formal, romantic or playful look; the items must reflect the love you share with one another and the significance of the day itself.
For more ideas for a Valentines Day Wedding Theme, check out the links below:
Pink and Red Weddings
Valentines Day Fabric Bouquets
Valentines Day Ideas
Valentines Day Mixed CD Ideas
Photo Credit: www.onewed.com