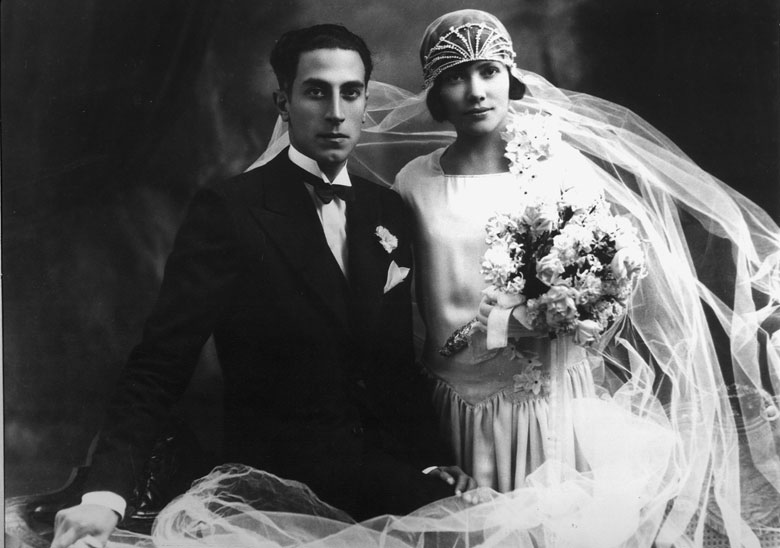 The term "vintage" is technically applied to any style or item that dates back to between 1920 and 1980. Before 1920 is considered to be antique. Vintage styles are popular for several reasons: They are usually somewhat rare as most items from yesteryear have been worn out or discarded, they were usually made of a much better quality than the items being produced today, the classic fabrics are no longer used in mainstream fashion, vintage items usually boast fascinating details (such as unique buttons or gorgeous lace), they are usually cheaper to buy and they tell tales of a cultural or social heritage, which resonates within each piece.
For these and other reasons, modern brides are choosing a vintage theme to mark the celebration of their special day. This gives their wedding a nostalgic aura of classic elegance and beauty, coupled with a trendy sort of chic.
Vintage dresses in South Africa may be available from various antique stores or second-hand clothing outlets. Alternatively, you may choose to wear your mother's or grandmother's dress. You can alter it, adding unique elements that make it right for you. Or, you could simply use parts of the dress, such as the lace, on your new gown to introduce vintage elements without having to give up your idea of a dream dress. For a vintage style, shoes and accessories are of the utmost importance. Take your time to find old brooches, strings of pearls, old-fashioned fascinators with netting over the face as opposed to a classic veil and fur boleros to create your authentic vintage look. The advantage lies in the fact that these are still such feminine and stylish pieces, despite having left the catwalks decades ago.
Men have a number of fun options to create that old-world look and feel. Braces, bowling hats and sneakers with a suit all look trendy and classic. Let the 'boys' have fun for a natural, relaxed feel.
A vintage wedding car is another must. There are various places throughout South Africa that hire these vehicles out for just such an occasion. By using your car in your wedding photographs, this enhances the vintage look and feel.
The bouquet makes for an ideal item in which to express the vintage look. Carry a dense ball of roses and lilies for a more conservative approach. Alternatively, scour the antique and used shops for colourful brooches and pins. Arrange these on a ball of oasis and make a 'stem' using wire wrapped in ribbon. This creates such a stunning piece that you are sure to be talking about your bouquet for the whole event. Alternatively, go for something completely different, such as a whimsical bunch of pink balloons.
Think back to your grandparents' home and incorporate elements that you can recall seeing. These can include the tins that Ouma Rusks and Maizena used to come in (perhaps as guest gifts or as vases for the table display), crocheted doilies, lace table cloths, crystal vases and so on. There is no limit to the number and ways in which you can use things that guests will recognise from their childhoods.
Your wedding is about you and your personal tastes and dreams. A vintage theme is the perfect way to convey parts of your personality in a glamorous, timeless way.
Photo Credit: fives.zui.com