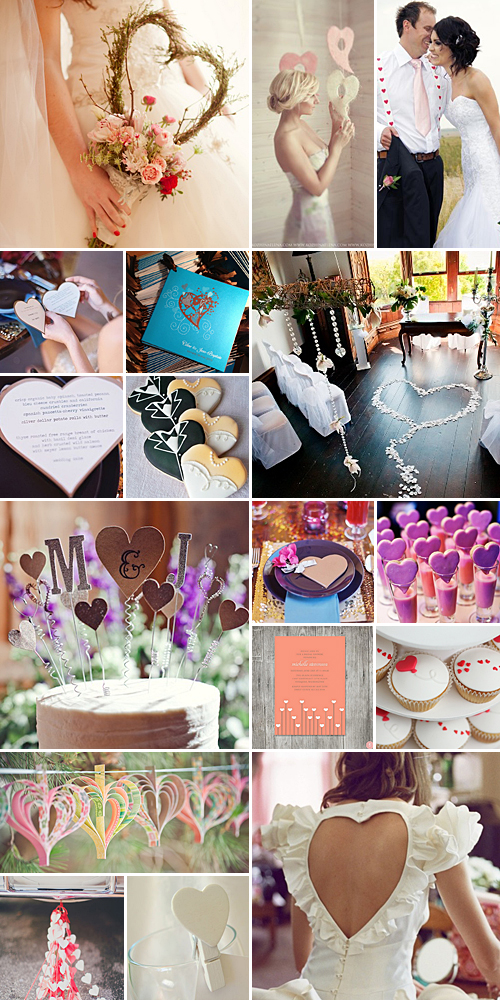 The heart is a shape that's been associated with love, passion and (most importantly) weddings since before we even knew how to spell w-e-d-d-i-n-g, and is generally used to refer to all things spiritual, emotional and moral. As the heart was once widely believed to be the intellectual core of a human being, the word "heart" is often used in poetic fashion to refer to matters of the soul. So go ahead and pour your heart into the wedding day with these heartfelt ideas:
Invest in a heart-shaped punch and use it to make confetti or decorate your invitations and stationery. Alternatively make mini heart paper bunting and fold your invitations or menu into heart-shaped origami.
Make use of artsy techniques like crochet, paint, stitching, dotting and so forth to imprint hearts onto your various stationery elements.
Bend hearts out of wire and thread flowers, wicker, vines or fairy lights through and around it to make interesting venue décor pieces.
Make guests' hearts beat sweet melodies by incorporating hearts into the dessert tables – heart-shaped biscuits, heart truffles, heart-shaped cake pops, candy hearts, etc.
Brighten up the dance floor by shining a heart-shaped light on it or arranging petals in the middle of it, in the shape of a heart of course.
Hang all kinds of hearty prettiness from the trees and ceiling – we're talking chalkboard hearts, Perspex hearts, heart-shaped balloons, cotton stuffed fabric hearts and piñatas.
Incorporate hearts into the photos – for instance, arrange your guests in the shape of a heart, use hearts-on-sticks as photo booth props, draw hearts in the sand or give him your (Perspex) heart during your wedding photo shoot.
Use hearts and spades from a deck of cards as part of the stationery or carve a heart and your initials into various elements like the wedding cake, guest book and tables even.
Original images and their credits available on Pinterest.