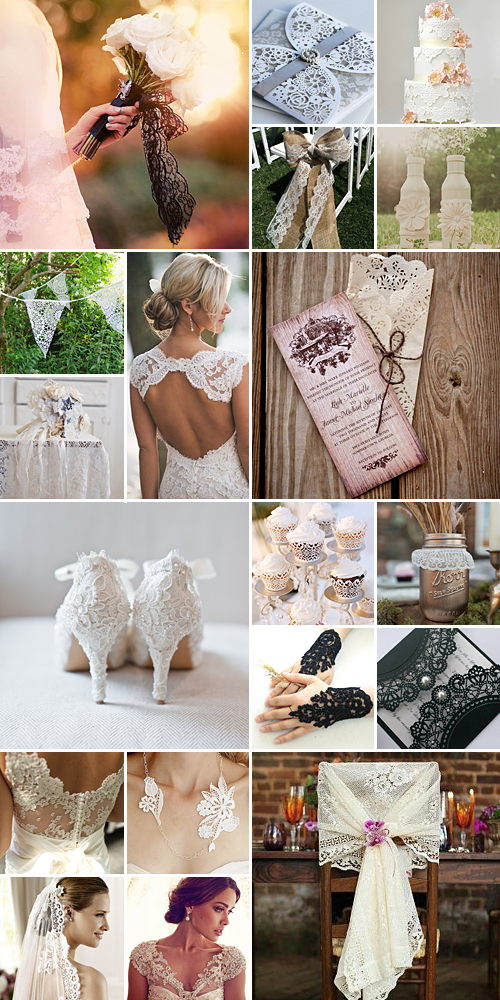 Lace just seems to exude beauty, romance, whimsy and nostalgia. With different applications, lace can be feminine, retro, pretty, modern and even funky. It is available in an endless variety of colours and designs, and there will certainly be a lace to suit your taste, style, budget and wedding theme.
To integrate lace into your wedding theme, here are some ideas:
Use lace squares as overlays on plain table cloths (black lace on white cloths will look striking, as will white on almost any other bold, plain colour).
Create 'flowers' by rolling lace and pinning it to form a helix of petals. Then, make a bouquet of these lace flowers, using different shades of lace, or all one colour.
For the wedding gown skirt, have layer upon layer of vintage lace, creating a textured look for a charming dress.
Trim your wedding bunting with a cute lace border.
A fascinator is a great way to incorporate lace into your attire. Opt for a sheer lace face covering hanging demurely from your fascinator, instead of a veil.
Lace shoes are just gorgeous when peeping out from under your dress. These can be custom-made by some bridal boutiques if they are not available from a shoe store.
Use lanterns with intricate designs so that the light being cast onto the walls of your venue create a lacy effect.
Elbow-length lace gloves can look distinctly retro, especially when in a different colour to the dress.
Original images and their credits available on Pinterest