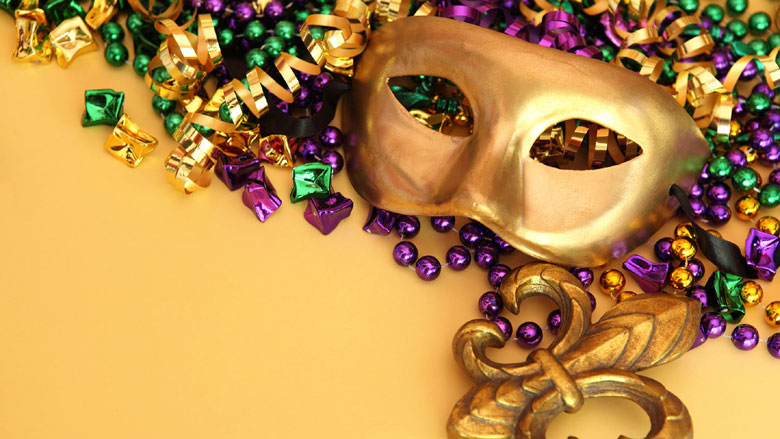 Mardi Gras is all about colours, textures, feathers, masks, glitter, music and fun. This makes for a memorable and very special wedding theme, especially suited to a couple that is vibrant and young at heart. Celebrate your wedding in this unique way by integrating the following elements into your big day:
Theme Colours
The Mardi Gras is characterised by green, purple and gold. You may choose to have white, pearl or ivory as your 'base' colour and accent it with these theme colours, or your dress and décor can be given a bold and dramatic look and feel by incorporating these as your main colours. Remember that this will look very different, and will make a major impression, so be prepared for some apprehensive family and friends.
Invitations
Your invitation sets the tone of your theme, giving your guests a little taste of the excitement to follow. For an elegant and subtle approach, use white or ivory card with beaded embellishments, feathers, gold coins (or wax seals) and glitter. Alternatively, attach the invitation to tailor-made masks so that guests receive a real surprise with their invitation. You may want to ask them to bring and wear their masks at your wedding reception.
Attire
As the bride, your dress can be plain white or ivory. Or, be a little bolder by creating it using shades of gold, which is always elegant, but definitely stands out from the crowd. If you want to go 'all out', have a coloured dress, made from luxurious fabrics in greens, golds and purples and embellished with beads, feathers and gold plates or buttons. Instead of a traditional veil, opt for an opulent face mask that can be lifted for the first kiss as husband and wife, or an elaborate feathered headpiece. Bridesmaids and maids of honour can don colourful dresses (which look stunning at knee length) and bright headpieces.
Grooms and their entourage can incorporate the traditional wedding colours into their suits in various ways, and should include gold, purple and / or green bowties / cravats / ties and waistcoats. Boutonnieres should be replaced by brightly coloured feathered arrangements.
Décor
Flowers and wedding décor provide the ideal platform on which to express your wedding theme. While bright colours and adventurous textures are what Mardi Gras is all about, consider including the following elements in particular:
Balloons
Streamers
Feathers
Glitter and reflective materials (such as cut-glass and disco balls)
Beads (incorporated into floral arrangements or strung and hung from the ceiling)
Treasure chests containing doubloons (or gold coins)
Mardi Gras masks
Food
Mardi Gras cuisine is usually a Creole concoction of Cajun flavours and colours. Seafood (such as mock crayfish, crab and shrimps) and tasty, substantial dishes like paella and Jambalaya are always favourites. These dishes can be made to look elegant and classy, or more relaxed, depending on your personal preferences.
Entertainment
Mardi Gras always boasts a rich assortment of jazz that is vibrant and fun to dance to. While you should include other music to cater to the tastes of all of your guests, jazz should certainly set the tone of your celebrations.
Other
Replace traditional confetti with chocolate coins, coloured beads or feathers.
Get your guests to form a parade to the reception venue from the church or ceremony venue. This is sure to get everyone into the party mood.

Photo Credit: bostinno.streetwise.co