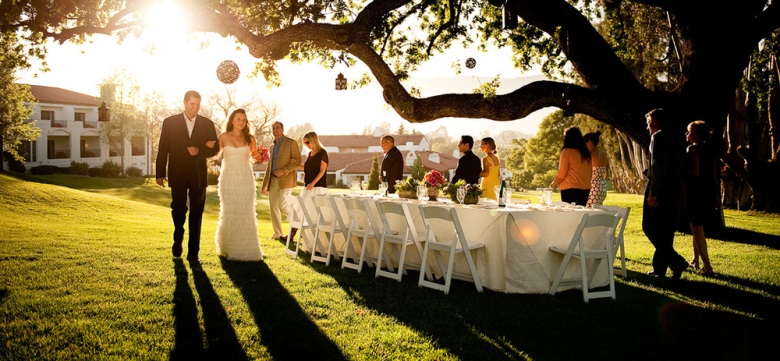 In many of the larger towns and cities, the date of your wedding may depend entirely on the availability of the ideal wedding venue. The venue is so important because it plays an integral part in the setting and style of your wedding day. In fact, if you decide on a particularly different sort of venue, it will actually define the entire event. For this reason, it is crucial to decide on your venue first, carefully considering all factors. Restaurants, banquet halls and lodges are the most common choices for wedding venues. A banquet hall is generally large enough to accommodate larger numbers of guests and is equipped with tables, chairs and cooking- or warming facilities. These work well, as they require little extra preparation, and have enough space for the bridal table and dancing as well as the flexibility for personal décor. Restaurants and lodges vary in size and may suit a smaller guest list, creating a cosy, intimate ambience. They enjoy the convenience of a kitchen and perhaps even accommodation. However, it is vital to ascertain space requirements as it may become cramped and hot. If space is limited, ensure that there are fans or air-conditioning units that can make it more comfortable. Parking and car safety should be addressed well ahead of time. In restaurants and lodges, your décor options may be limited due to what they already have in place.
Outdoor weddings always carry a romantic, summery feel. These can be held in a park or garden or on the beach. This is fantastic in a country like South Africa, where summers are hot and winters are temperate in many places. Stunning beaches that stretch for miles and fertile soil that yields a palette of colourful blooms make for the ideal setting in which to make this lifelong commitment, if ever there was one. However, there are more than the usual preparations that need to be undertaken for outdoor weddings. Obviously, weather is the most important factor. Ensure that guests are able to get shelter from both the sun and rain. Consider too that many of the ladies will be in high heels and it is not possible to walk on sand or loose ground in these. You may choose to have some rubber flip-flops available, or to put flooring down. Burn citronella candles instead of plain ones to combat any mosquitoes and other flying insects that come out at night.
For something completely different, and far more dramatic, many couples have chosen a venue such as a castle or historical barn. These carry with them a nostalgic romance that cannot be conveyed unless it is authentic, making them unique and memorable. They also provide guests with a new and exciting experience, which generally translates to a successful event. Because these historical buildings were constructed with a completely different purpose, they are generally very spacious, with high ceilings and sweeping floor space. This may give the impression of being sparse or cold if you do not have a large number of guests attending, so be sure to fill the space you have booked. These types of rooms are also frequently ill-lit, or furnished using dark woods. Create a sense of light and space by opening the curtains or using lamps, candles and other lighting. This will warm the room and make it more inviting. Another factor to consider is the proximity of your venue from the city centre and ceremony venue. If guests are likely to be drinking, consider using a shuttle service to transport them back home after the reception, as it is not wise or safe for them to drive long distance late at night, or under the influence of alcohol.
If you are only inviting a few close friends and relatives, you may decide to have your wedding in somebody's home. This is the ultimate in intimate venues as it is personal, small and, usually, inviting. Such a setting may mean a lot of preparation and cleaning up to restore the home to its usual 'living' condition. But, this venue does lend your wedding an air of hospitality, charm and ease, which encourages guests to relax and enjoy themselves. Parking may become an issue in a residential area, and plans need to be made to share lifts, or to alert neighbours to the increase in traffic on your wedding day.
By preparing well in advance and asking lots of questions, you are sure to secure the ideal venue for your wedding reception. This will enable you to make the most out of your day and to enjoy it in the confidence that it is exactly the right ambience for you and your new spouse.
Photo Credit: www.poweranks.com