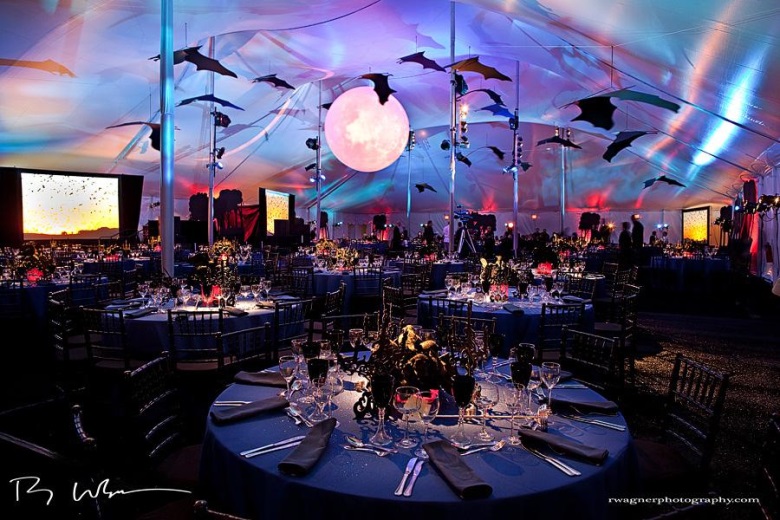 In the eternal quest for an original wedding, many brides and grooms have opted for themed weddings. These range from Victorian to Medieval, Hippy to Teddy. A Halloween wedding is novel and not that common in places that do not celebrate this tradition in the same way that the American states do. There is no doubt, however, that the perfect Halloween wedding is fun, and will certainly stand out as distinct and memorable for the guests for many years to come.
The first step is to secure October 31 as your wedding date. This gives the wedding theme credibility and lends the entire period an aura of excitement, encouraging the guests to get into the true spirit of the holiday. If possible, choose a venue that gives that 'haunted hotel' feeling, albeit with a bit of décor and imagination.
Then, decide on how much of the Halloween theme you want to incorporate. Are you going to go all out in terms of your wedding dress, décor and menu? Or would you prefer just to keep it to black tablecloths with pumpkin centrepieces? Just choosing a Halloween theme implies a more casual, fun occasion. You need to be absolutely sure that this is the wedding that you want, so that you do not regret forfeiting your dream of a formal white wedding on a whim.
Having decided that this is, indeed, your dream wedding, you will need to choose your dress / costumes and décor. This does not mean that your dress can not be beautiful in its own right. A burnt orange gown with black jewellery can be absolutely stunning. Alternatively, wear a formal black gown and put your bridesmaids in reds and oranges for a dramatic effect. If you do want more of a 'costume' effect, you and the groom may opt to utter your nuptials as Frankenstein and his bride, or Dracula and a hapless victim. If you want your guests to dress up accordingly, make this clear on the invitation. Bear in mind that there will still probably be some guests who do not play the part. For these ones, put some party hats and masks on the tables for when they get more into the swing of things.
If you have sufficient time, try to buy discounted Halloween decorations well in advance. If you leave it too late, you may be subject to paying the inflated prices closer to the holiday date. Table decorations present you with a host of fun and exciting options. Black and / or orange table cloths with pumpkins, candles, skulls, witch brooms and Halloween-specific confetti create a dramatic effect. In addition, the wedding venue can be draped and decorated with spider webs and dummies of witches, vampires and other such characters. The church will likely have objections to boasting dark and deadly décor. You will probably do better to keep the church décor subtle, and rather decorate the reception venue. If you feel that you would definitely like to drape the church in gory style, make sure that this has been discussed in detail with the service provider well ahead of time. Either way, candles are the best way to create a mood that is both romantic and eerie, if implemented correctly. Flowers, including the bridal bouquet, should include plenty of autumnal leaves and orange flowers. More traditional flowers may be painted black for a haunting effect.
The menu offers another great opportunity to carry through the Halloween theme. The wedding cake options are endless, with decorations including blood, eyeballs and bones. The meal may comprise blood soup (using colouring or beetroot) and worms and eyes (spaghetti and meatballs). For a less 'repulsive' option, present a meal that includes pumpkin, perhaps on black plates, to create the look and feel without stimulating the gag reflex.
Certainly, a Halloween wedding offers a unique experience, not only for the bride and groom, but also for the guests who are invited to enjoy this occasion with the loving couple.
Photo Credit: pearleventsaustin.com