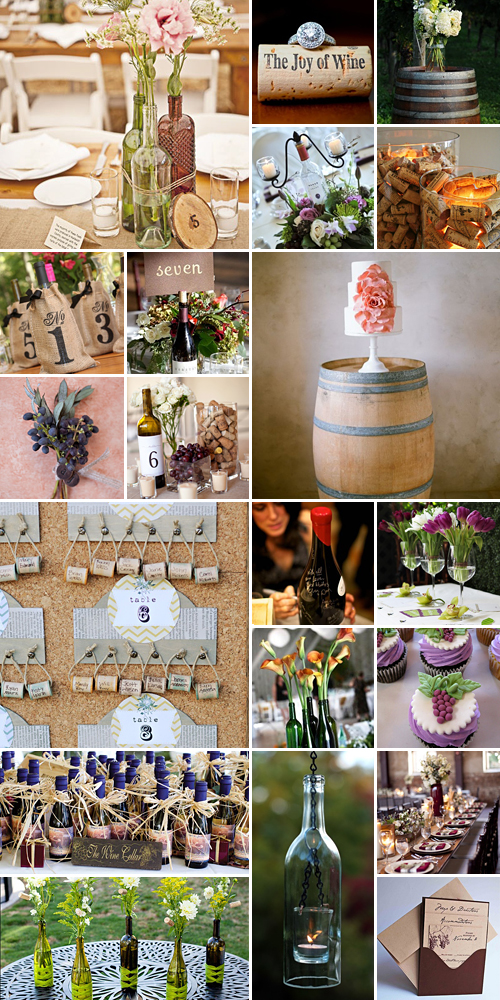 As the popular saying goes, "When in doubt, drink wine!" So what better way to avoid cold feet on the big day, than with a full-on wine themed celebration? This is most appropriate if you're tying the knot in wine country or consider yourself quite the connoisseur.
Aside from having wine on the tables or pairing it with cheese, chocolate or preserves, take a look at these ideas for wining and dining your guests:
Names: Instead of table numbers, name each table after a different type of wine, with the main table being your favourite.
Labels: Have your own custom wine labels printed with your names and wedding date on it, or have a single bottle labelled which you can then seal in a wooden box as a symbol of your new life together.
Glass: Send guests home with mini bottles of wine with thank you notes written on it using a glass marker, or ask your guests to use that same marker to sign a magnum bottle which you can keep instead of a guest book.
Corks: Use wine corks as name card holders – simply make a slit in the side of the cork and slide the card into it – or use a bucketful of corks as vase fillers.
Bottles: Make wine bottle lanterns – simply slice off the bottom of the bottle with a glass cutter and place the bottle over the candle. Alternatively collect beautifully coloured bottles and use them as vases.
TIP: To remove a label from a bottle, soak the bottle in warm soapy water, wipe dry and use insect repellent to wipe off the stubborn glue smears.
Original images and their credits available on Pinterest