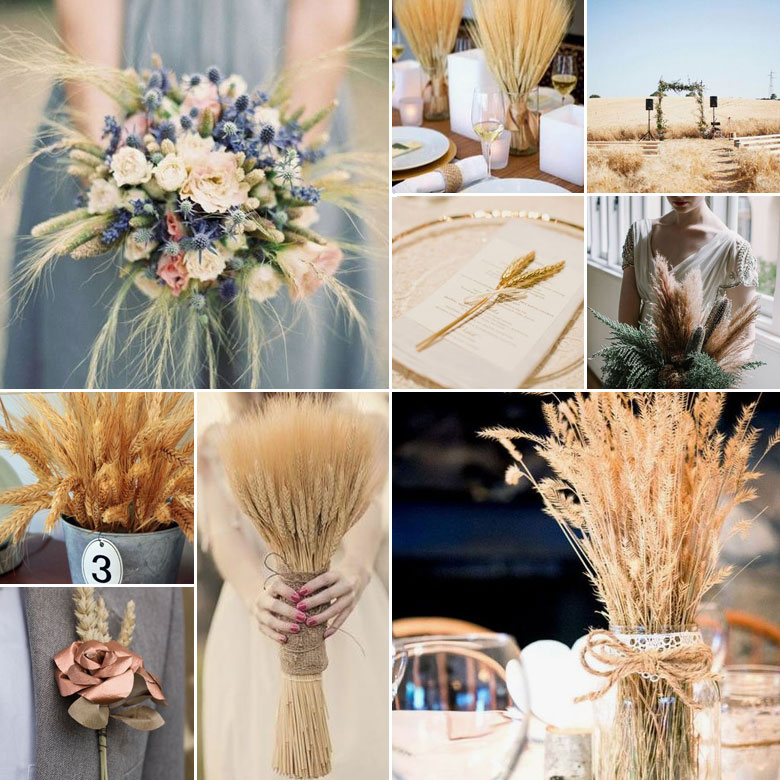 Whether it's your love of farm life or adoration of soft natural colours that's brought you to this point, we applaud you for considering a wheat-themed wedding!
For your ceremony and pre-drinks, consider using hay bales as seating – and why not cover it with fabric for extra comfort?
Incorporate wheat ears into your bouquets and floral arrangements, and scatter wheat down the middle of your guest tables.
Instead of normal confetti, give your guests handfuls of wheat to scatter over your heads before you depart.
Dress the bridesmaids in stunning wheat coloured dresses and boots, for that warm farm vibe.
Host your wedding in a barn, with hay bales stacked up against the walls to add to your décor.
Place two or three wheat ears at each place setting, and tie a little name tag around it – cute place cards!
Host your wedding on a wheat farm so that you can set out to have magical pictures taken in the field.
Serve a variety of freshly baked breads, and also give your guests mini bread loaves as guest favours.
To further complement the wheat theme, use plenty of burlap in your décor – for instance as table runners or wrapped around your flower vases.
Original images and their credits available on Pinterest