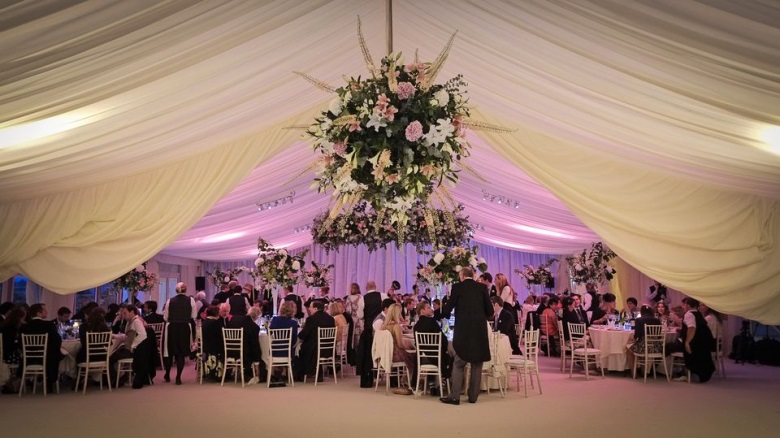 Choosing a wedding venue for your wedding often plays the determining role in deciding the date (according to availability), style and theme of your big day. For instance, a couple that has always dreamt of celebrating their union in an old castle will depend very much on availability and will need their décor to suit the grand, opulent nature of the venue.
There are many reasons to use a marquee as your formal wedding venue, as well as many advantages. Most couples opt for a marquee wedding when they are unable to secure another venue for their desired date, or when they wish to enjoy their wedding in an area in which there is no formal structure (such as a garden). But there are ample good reasons to use a marquee.
One of the most advantageous features of using a marquee is that they are available in a range of different sizes and dimensions. This allows you, as the bridal couple, to choose how big you would like it to be and how you want it laid out. You are not limited in terms of the size or the awkward shape of a specific room.
Another major advantage is that having a marquee allows you to bring the outside in to a large extent. One or more sides of the marquee can be opened, particularly effective when there is a view of the sea, winelands, mountains or a beautiful landscaped garden. This encourages guests to meander out of the marquee, enlarges your wedding venue area and makes it feel open and spacious. Introducing the outside environment also means a more natural, earthy appeal, rather than relying solely on synthetic décor and lighting to set the mood. This also gives you the option of dividing your area, or extending it between the inside and the outside. Food, the entertainment and the dance floor may be indoor features, while guests are encouraged to eat and mingle outside, for example.
Décor is another great advantage to choosing a marquee as a wedding venue. Instead of having to work with the style of the venue or its existing structure, you are able to have complete freedom and flexibility in terms of your décor. You do not need to accommodate pillars in the middle of what you had wanted to be your dance floor, or hide unsightly wires and electrical outlets. Rather, you can decide exactly how you want your venue to look and feel.
A marquee can be set up in a variety of locales, giving you the ability to choose your dream location, rather than being limited to an indoor venue in a hotel or lodge. Erect it in your favourite botanical gardens, on a beach, alongside a rim-flow pool or behind lush vineyards for your idyllic backdrop.
There are a few aspects to consider when using a marquee as your official wedding venue:
You may need to erect additional structures for your kitchen and bathroom facilities.
Marquees can become hot, especially when kept closed. Make sure there is sufficient natural ventilation as well as fans.
It is advisable that you have flooring. If this becomes too costly, consider only having it on the dance floor, so that your guests' heels do not sink into the ground or become dirty and ruined.
If you have to use portable toilets, hire someone to maintain these throughout your celebrations so that guests are not required to use dirty facilities. There should be more ladies' toilets than gents'.
Photo Credit: www.firehorsephotography.co.uk