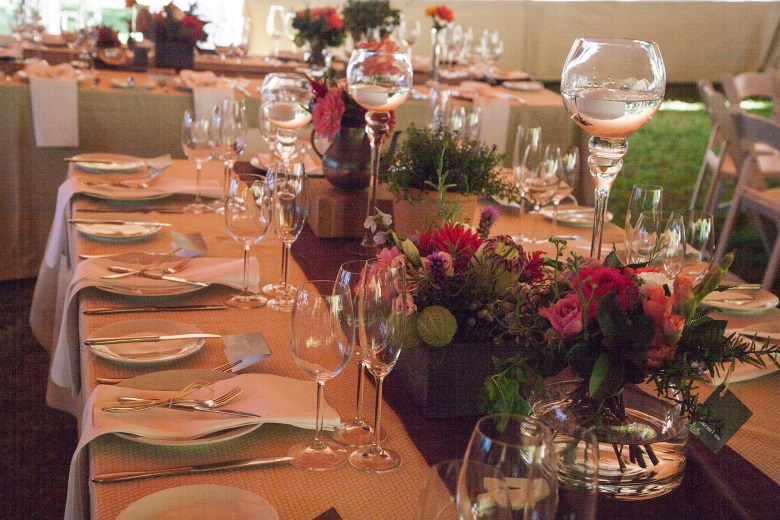 Deciding to have your wedding ceremony and/or reception at home may be based on a few motivations. Perhaps you are trying to save costs by avoiding the wedding venue hire fee, or maybe you are nostalgic about the home you grew up in. You might feel that your home is a more relaxed venue, or there may be someone at home who could not otherwise have attended your wedding for health reasons. Whatever the reason, an at-home wedding needs as much organisation and forethought than one hosted elsewhere.
The first major decision would be whose home to use. Your family home may be large enough and suitable to host such an event. Alternatively, you may opt for a friend or family member with a small holding or farm, or even an intimate cottage. If you, as a bridal couple, have purchased a new home for after the wedding, this may be a fun and exciting way of "breaking it in". The most important factor is the atmosphere of the home you select, as this will determine the atmosphere of the entire event.
Decide whether you would prefer to have an indoor or an outdoor wedding. Large, spacious gardens are romantic, fun and easier to decorate. Trees and flowers lend the event an air of elegant charm, while not becoming too formal. If you decide on an inside wedding, remember that the colour of the walls, the ornaments and the lighting will have a huge impact on the photographs. Sunflower-yellow walls may look bright and lively, but may clash terribly with your husband-to-be's skin tone, for example. Any redecorating that the host / home-owner plans to undertake should be finished at least 1 month before the wedding date. This allows time for minor (or major) adjustments to be made before D-Day.
Whether an indoor or an outdoor affair, you will need to consider the amount of guests you plan to invite in relation to the amount of space available, the bathroom facilities, seating areas for the formal ceremony, space for dancing at the reception, kitchen facilities for keeping eats warm and so on. Additional factors for an indoor venue include protection for carpets, ensuring that all valuables are safely stored away, and cordoning areas of the house off during the ceremony and reception. Ensure that enough parking is available, and that your neighbours are aware of the plans for that day. It is also a good idea to have the venue inspected for fire hazards and electrical faults well before the time.
Outdoor weddings really do have the potential to be stunning, and a refreshing change. However, they also tend to be more expensive, as absolutely everything needs to be hired (unlike indoors where the shelter of the roof is built in!). Marquees, chairs, linen, décor, hotplates, and so on will all need to be hired or bought for this occasion. The marquee will need to be sturdy and reliable as weather tends to spring its surprises on us when we least need it. It may be best, depending on the resources available and the time of year in which the wedding is held, to keep indoors as a plan B option in case of rain and strong winds.
Choice of venue is crucial to the ambience and vibe at your wedding and should be considered in line with this, as well as budget and the level of convenience for most guests. However, the most important factor is to ensure that, while hurrying away to enjoy your romantic honeymoon together, you have left plenty of people behind to clean up the mess!
Photo Credit: www.eventdesign.co.za