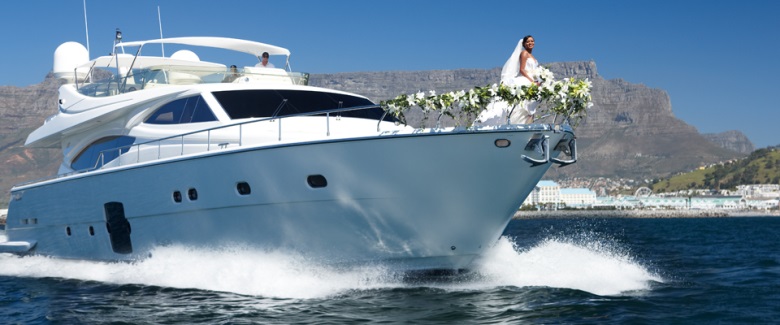 Nothing says glamour, sophistication and 'living the high life' quite as well as a luxurious yacht. Sailing on azure waters with the sun setting behind you and the city lights in the distance spells the ultimate in romance, and is sure to be remembered by you, as a couple, and the nearest and dearest that shared this special occasion with you. The following advantages are just some that have convinced bridal couples from all over the world to indulge themselves (and their guests) in a yacht-based wedding celebration:
Very little décor is required to create a beautiful venue, as much of the aesthetic appeal is gained from the surrounding ocean and spectacular views.
The views create stunning backdrops for your wedding photographs, no matter who is taking them.
Yacht charters frequently offer wedding packages, which are all inclusive (saving you many of the smaller organisational tasks) and often cheaper.
Since guests are unable to leave until you dock, the party is likely to continue, as they all simply relax and enjoy their time.
This is a real treat for the family and friends who have made the effort to share in your big day. In fact, such a wedding venue can act as your guest gift, saving you time and money that would otherwise have been spent on small keepsakes for each guest.
The yacht is instrumental in setting the theme of your wedding, requiring very little effort on your part. You can simply work with this theme in your décor (e.g. marine colours, a seafood menu, etc…).
Because of this unique, fun and gorgeous venue, you are able to forfeit many of the things that have come to be thought of as traditional necessities (the formal dance floor, guest gifts, and a tiered wedding caked, for example).
As a couple, you are able to decide when the party is over simply by returning to dry land.
If you are able to organise it, you may enjoy your first night as husband and wife aboard the yacht, which means no travelling, checking into hotels, and so on, on your big day.
Some friends and family may be able to spend the first night with you on the yacht, allowing you to extend your celebrations to a champagne breakfast the following morning.
If you do not live at the coast, but have access to a large lake or dam, it is possible that you could alter this theme slightly by chartering a boat. This remains a fabulous experience and still offers gorgeous views, albeit not of the ocean. If you decide to travel to the ocean from an inland town or country, be aware that some of your invitees may not be able to attend, as this sort of travel always involves the added costs of transport, accommodation, time, and so on, which some of them may not be able to afford.
Couples getting married in South Africa have the ideal opportunities to take advantage of yacht weddings, as this country has a breath-taking and extensive coastline.
Your wedding day is one of the most important of your life. Celebrate it in timeless style and deserved luxury aboard a yacht.
Photo Credit: capetown.oneandonlyresorts.com