On the Wings of Love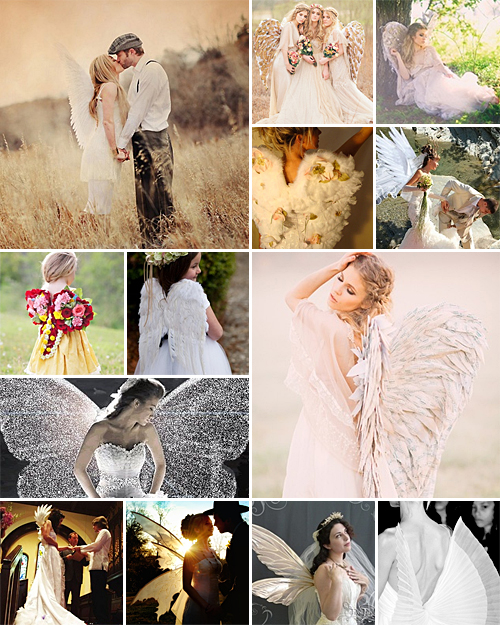 Classy or cheesy – that is the question when it comes to wedding wings. While kiddies fairy wings are probably the first flappers that come to mind, the list actually goes on and on. From classic feathered angel wings and pointy elf wings, to dragon fly flappers and butterfly wings – there really is a set to suit the taste of every whimsical bride.
To pull off wedding wings with style, it's important not to approach the subject from a girly-girl perspective, unless you want to risk your wedding turning into a sixth birthday party. Here are a couple of ways to wing it in style with wedding wings:
Add a set of wings to the dress up box in the photo booth and make sure there's also devil's attire in there somewhere – laughs, giggles and funny moments guaranteed!
Ask your bridesmaids to don a pair of wings, if they're up for a bit of quirkiness, or dress your little flower girl in an angel or fairy costume.
Play around with wings during the wedding photo shoot – semi translucent wings plus golden hour sunset could just lead to something absolutely breath-taking.
Print each guest's name on mini paper butterfly wings and prop the paper flapper on the side of the wine glass as place card.
Suspend lanterns or lights from the ceiling and attach little wings to it, as a means of creating the illusion of giant fireflies flapping about.
Instead of confetti, let your guests scatter feathers over your just married heads and release pearly white doves into the heavens above.
Attach a pair of wings to the back of some or all of the guest chairs. Not only does it look too pretty for words, but later on in the evening when the alcohol starts flowing, guests can get creative with them.
Opt for a flowing and simple lace or chiffon dress and ask your dress designer to work a pair of elegant wings into the mix. A word of warning: Simply adding a pair of store-bought wings to a store-bought dress might seem like a good idea, but the odds are that it might end up looking tacky.
For more Wedding Wings ideas, the original photos above and their credits, make sure to check our our Wings Pinterest Board!