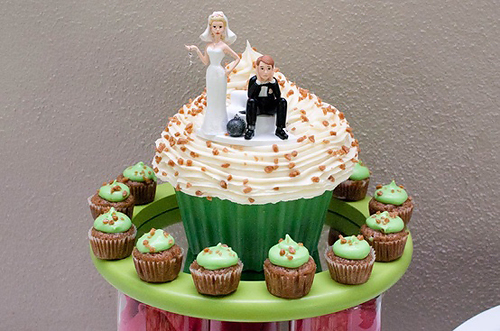 It's a proven fact that the human race is intrinsically intrigued by anything of an odd and unusual size, whether it be miniature or larger than life. Over the past decade or so the wedding cake has been redesigned, reformed, reshaped, revamped and re-looked more times than the engagement ring on your hand and finally it's come to this: The giant cupcake. Can you say "Love"?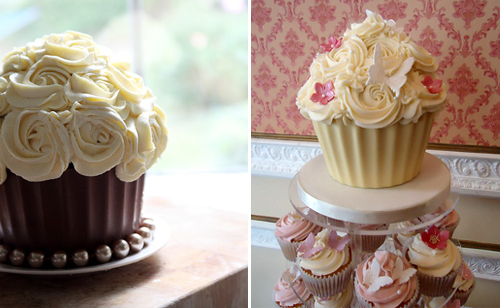 The giant cupcake is perfect for the couple who've lost their hearts on the cupcake theme but still cherishes the "cutting the cake" tradition. Whether you decide on a single giant cupcake, large cupcakes of varying sizes, or three giant 'baby cakes' displayed on a cake stand, this unusually shaped cake sculpture will definitely be an equally giant topic of conversation among guests.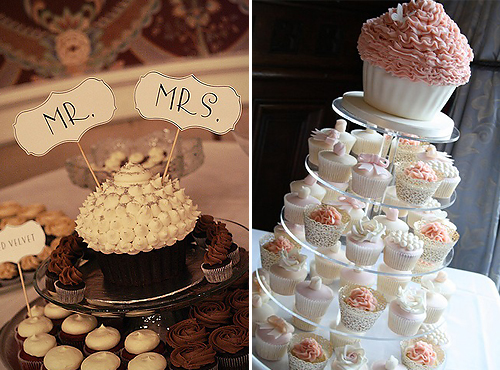 Giant cupcakes are certainly not made to be hidden – on the contrary! These magnificent cake creations work extraordinarily well with a fun and quirky theme like Alice in Wonderland or a Crazy Carnival theme. So instead of hiding it away until the big moment, display the wedding cupcake in an area where guests can truly admire and appreciate it before the yummy masterpiece gets massacred and devoured. In fact, why not take it a step further and make it a prop in the wedding photo booth? That way your wedding cake becomes more than just a fixture, forming an undeniable part of your wedding memories.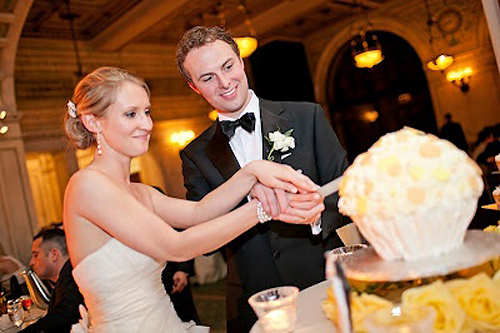 If slicing the unusually large cupcake sounds like too much of a messy and time consuming business, consider filling the bottom tiers of the cake stand with cupcakes which guests can easily help themselves to, and then topping the stand with one big boy cuppycake. Be sure to decorate both big and small cupcakes in complementary or identical fashion to create an interesting and striking visual ensemble.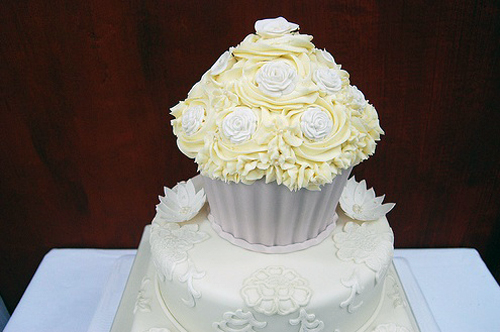 Giant cupcakes don't necessarily have to be giant, only bigger than what is considered 'normal'. Pudding bowl sized cupcakes make the perfect wedding favours and can double as place card, with each guest's name written on top in sugary icing. Baked to perfection and lavishly decorated, the giant cupcake truly is the cherry on top of the metaphorical cake that is your wedding day.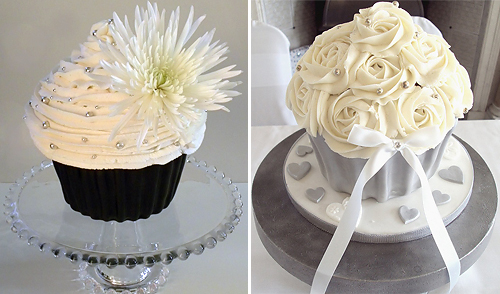 For more ideas on Giant Wedding Cupcakes or to check out the original photos displayed above and their credits, make sure to check out our Giant Wedding Cupcakes Pinterest Board!