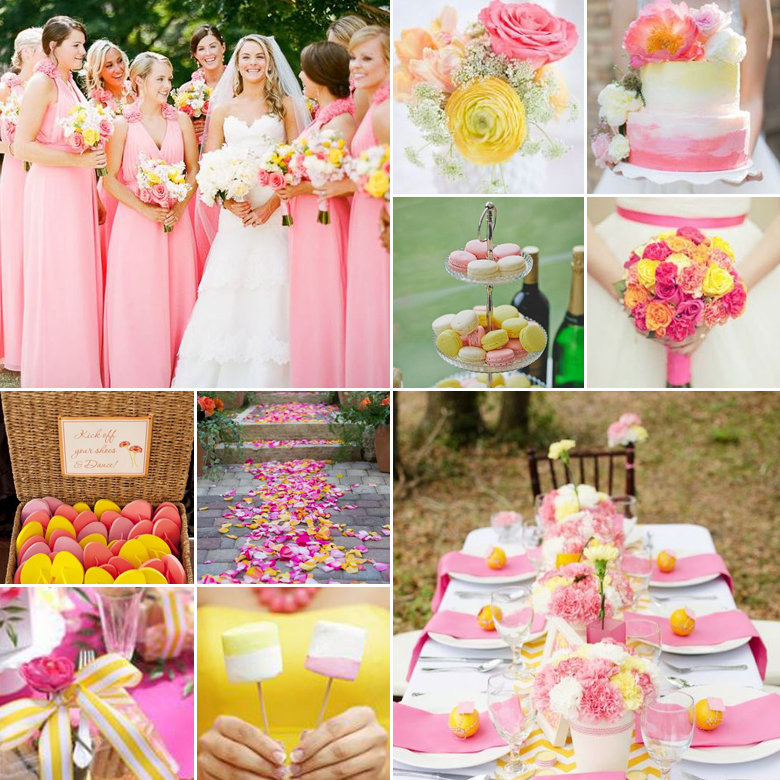 What a delicious theme to feast your eyes on! This vibrant colour scheme screams joy and delight. Combining two of the happiest colours on earth, this pastel explosion is perfectly suited for a light spring affair as well as a fresh morning wedding.
The greatest pothole is planning a wedding that's far too girly for hubby-to-be! So be sure to place the emphasis on joy, fun and celebration rather than princess pink glamour.
Serve a combination of yellow and pink punches and cocktails to get guests into the party mood.
When it comes to the dessert side of things, you can't go wrong with yellow and pink macaroons, as well as strawberry and lemon cheese cake.
Yellow is a good compromise in areas where pink might not fly – like the groom's boutonniere and tie.
To tone down the theme ever so slightly, introduce light grey in certain areas like the table cloths and bridesmaid dresses.
Combine flowers like roses and peonies to really further your theme colours.
Serve candy floss throughout the reception – but add a little twist and make yellow candy floss as well!
Blend the two colours to perfection by using the ombre technique.
Original images and their credits available on Pinterest