Lemon and Lime Weddings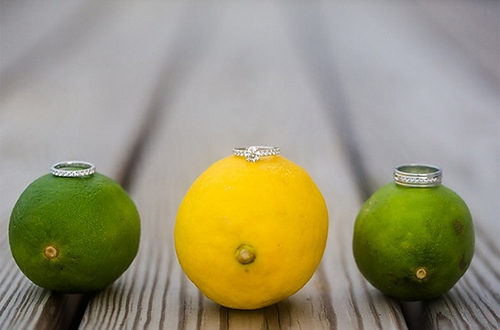 While the idea of yellow and lime might initially give you a slight acidic ulcer, when considered a little more closely the colour ensemble is really quire refreshing. There is a fine line however between tastefully colourful and visual mayhem and the trick to staying on the right side is as simple as using plenty of white.
Light lemony yellow is one of this season's hottest colours and  splashes of lime, the ensemble is fresh, juicy and electric. Lemons and limes are obviously a must for table decoration. Lemon slices in vases of water still make excellent and fragrant centre pieces for a summer wedding and we also love the combination of yellow lemons and soft green limes with fresh spring flowers.
In terms of snacks, food and treats, place large flasks of ice cold lemonade on the tables – or have a lemonade stand, if you're planning an outdoor wedding – and be sure to serve a rich creamy cheese cake or lemon meringue pie with lime macaroons. On the other hand, if you're not too much of a sweet tooth, consider a yellow savoury cheese buffet and a leafy green salad bar, with refreshing trio of lemon, lime and litchi sorbet or popsicles for dessert.
Flowers on the lemon list include tulips, daffodils, gladiolas, daisies, the ever-popular billy balls, roses and marigolds. On the lime side, flower choices are slightly more restricted to green hydrangeas and lilies, however the choice of foliage and greenery is staggering.
As the theme is just perfect for a spring or summer affair, yellow and lime parasols or fans for the bridesmaids are pretty much a must. Then there are the dashing grooms men who would look that much more charming with a pair of lime green socks, yellow framed sunglasses and a quirky little bow-tie. Bring on summer!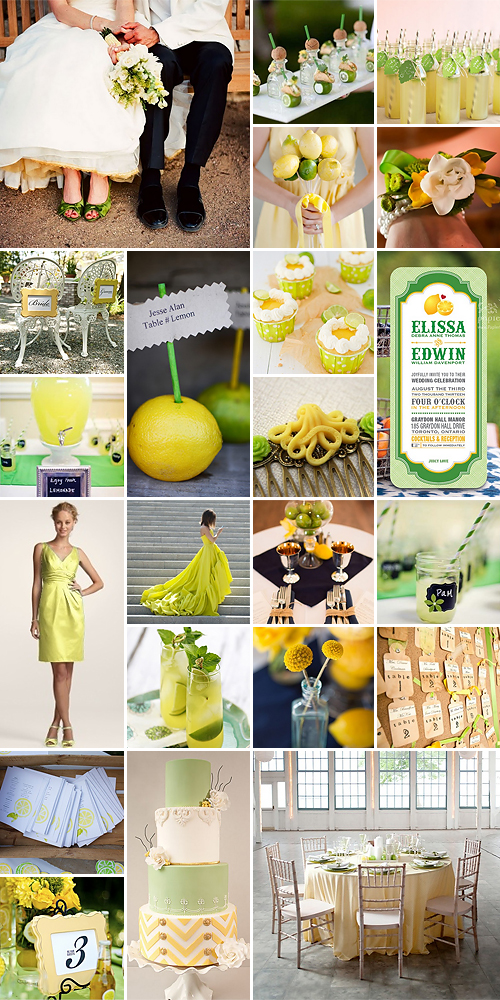 For more ideas on Lemon and Lime Weddings or to check out the original photos displayed above and their credits, make sure to check out our Lemon and Lime Weddings Pinterest Board!