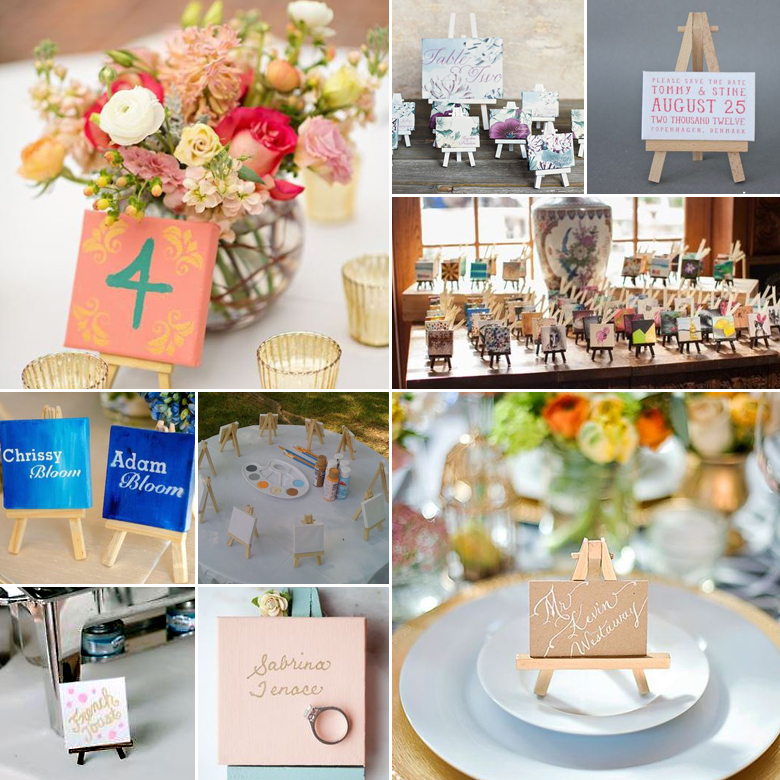 Contrary to what you might think, these little easels weren't made for ants – they were made for your wedding day! It's no secret that we adore miniature things (who doesn't?) and ever since photographers have introduced miniature easels as photo stands, we've been smitten.
So how to go about blending these pretties into your wedding day? Simple!
Place a tiny easel at each dish on the buffet table, to display the name of the dish (and also whether it's vegetarian/vegan or not).
Entertain your guests with little jokes and riddles printed on canvasses, and displayed all around the venue (especially places like the bar where guests might have to wait a bit).
Personalise your place settings with tiny canvasses featuring your guests' names.
Little easels and canvasses are the ideal way to show off your table numbers.
Easels are an excellent way to display photos from your engagement shoot in and around the venue.
Complement the easel theme with a giant easel displaying your table plan at the entrance of the reception venue.
Replace signposts with small easels indicating directions to amenities like the bar, bathrooms and reception venue.
Allow guests to take the mini easels home as guest favours.
Original images and their credits available on Pinterest