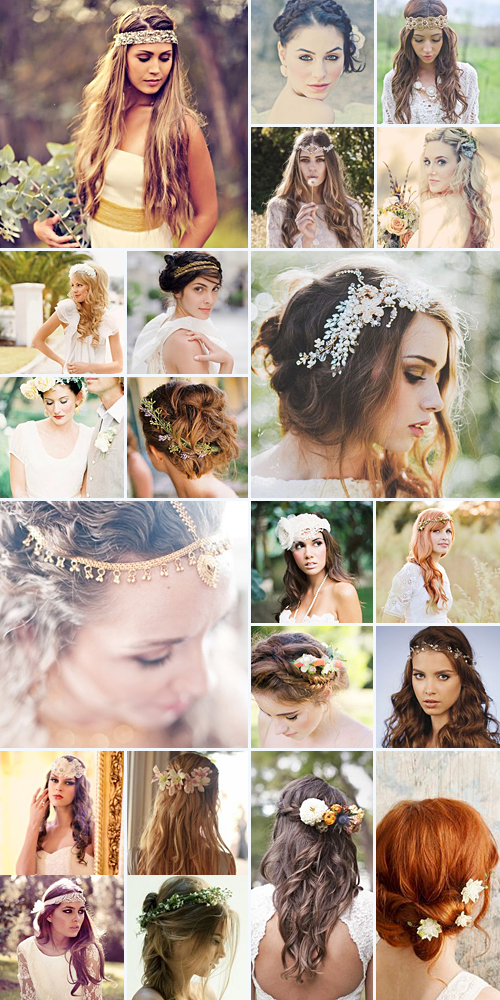 Bohemian style weddings are a thing of romance and beauty, and let's be honest – it really starts with the look of the bride. Once you have your soft and whimsical free flowing bohemian dress sorted, the next step is choosing the perfect hair style.
The trick to pulling off a boho chic hairstyle with flair is opting for a loose, un-kept style that oozes natural charm and femininity – if you can imagine a forest nymph rocking it, then you're in the right space.
Here are a couple of ways to do achieve just that:
Flowers: Because bohemian is really all about being natural, lovely and true to yourself, flowers are practically a must. Decorate your hair with freshly picked lovelies that complement your bouquet and bridal beauty or opt for a full-on floral crown.
Plaits: Gypsy braids and delicate hair plaits are the epitome of feminine dazzle, adding that much-needed touch of whimsy to your boho look. Options include braiding all your hair and letting it spill over the shoulder or down your back, working tiny braids into your loose curly hair or braiding your hair into a vintage up-do.
Hairbands: If a floral crown isn't your cup of tea, a soft or sparkling headband might be just the thing to add a touch of boho chic glamour to the bridal look. A thin gold band across the forehead is a guaranteed winner while a dazzling head sash is just as much a "yes".
Buns: A loose, wispy bun that appears as if it was pinned up as an afterthought is spot-on! Whether high, low or on the side, buns are simply timeless and even that much more boho when decorated with a flower or three.
Original images and their credits on Pinterest