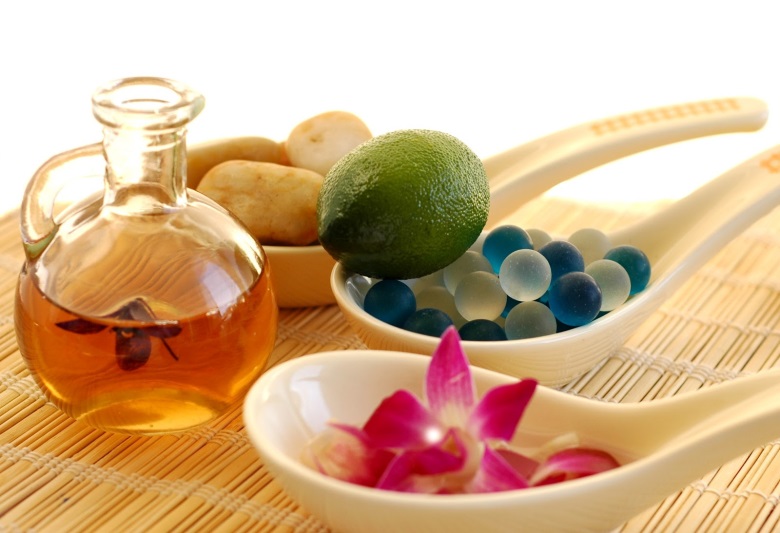 Every oil that is used in various massage techniques has a role and effect of its own. When going for your pre-wedding massage, tell the therapist your particular concerns (e.g. stress, fatigue, etc…) and allow him or her to use the correct scents to address the issue. Essential oils should not be used on their own, but need to be diluted with a carrier oil (or base oil) before being used directly on the skin (sweet almond oil is one of the most common base oils). This enables the increased spread of the concentrated molecules on the skin, rather than allowing them to 'settle' on one area only. Base oils are inert, making them far less intense than concentrated essential oils.
Do not try to use the essential oils without having a good knowledge of what base oil they should be combined with and what their key function is. The following oils are those most commonly used (either alone or with a base oil):
Apricot Kernel Oil – rich in Vitamin E with a long shelf life. Ideal for aromatherapy massages.
Sweet Almond Oil – very popular for various massages, this is easily applied and does not leave an oily film afterwards.
Jojoba Oil – this is a waxy substance that has antibacterial properties. It also has esters (fats) that resemble skin sebum, making it ideal for use on people that suffer from acne, as it will both sterilise the area and not contribute to its oiliness.
Sunflower Oil – a light oil that contributes to healthy skin for its high content of the essential fatty acid linoleic acid, palmitic acid and stearic acid. The short shelf-life can be extended by adding a little pure Vitamin E oil.
Avocado Oil – a heavy oil that is usually used in conjunction with Sweet Almond oil as a base.
Grapeseed Oil – this odourless oil is smooth without leaving an oily residue. It is sometimes considered inferior as it is not extracted directly from the source, but is still a popular choice.
Kukui Nut Oil – a great option for sun-damaged skin, this is a non-greasy oil that is ideal for all skin types.
Sesame Oil – as a medicinal oil in India, this is perfect for detoxifying and nourishing those suffering from anxiety, constipation, dehydration and bad blood circulation.
Wheat Germ Oil – this thick oil is very rich in Vitamin E. It must be blended with a lighter base oil to aid in spreading it around. It is great for stretch marks and scars, and gives skin a youthful look and feel.
Hazelnut oil – ideal for moisturising, this oil plays an integral role in cell rejuvenation and strengthening capillaries.
Natural oils contain a variety of elements and trace elements. Those with allergies need to be aware of the potential of harmful reactions. If you are allergies to nuts and seeds, be careful to avoid coconut, sweet almond, sunflower, peanut and sesame massage oils. If you have adverse reactions to latex, you may have an allergy to avocado and Shea massage oils.
Photo Credit: consciouslifenews.com