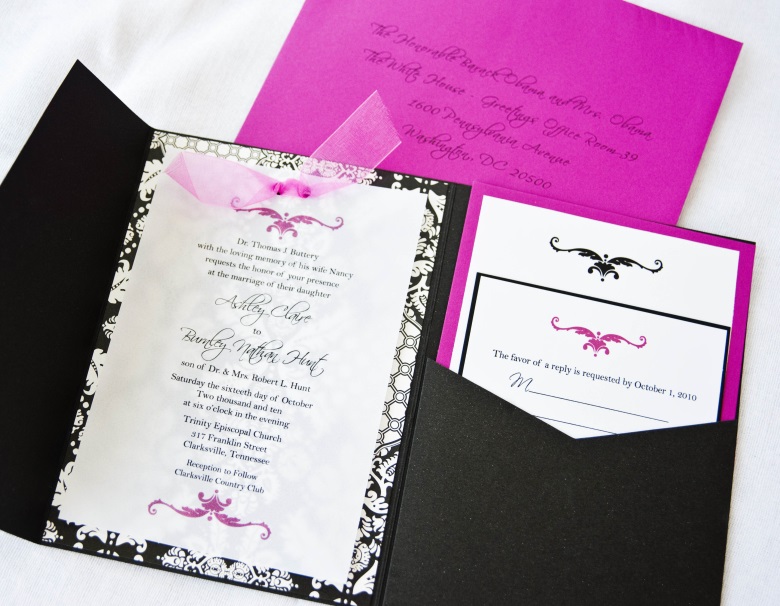 There's no 'right or wrong' when choosing your invitation wording, nowadays with all the various options your wedding invitation wording simply nee
ds to be personal, set the tone of the wedding and have to contain all the relevant info of the upcoming wedding celebration.
With the increased tendency that the bride & groom cover the costs of the wedding themselves, the mentioning of the parents names in the wording is of a personal preference.
Use your names that you are known by, even a nickname can be used if more than 80% of your guests know you by that name. For more formal wording full names and titles (eg. Mr, Mrs …) can be used.
Any verse eg. "If I know love it's because of you" can be included at the beginning or end of you wording, to give it a modern and personal tone.
A few wording samples:
When the Bride & Groom cover the costs themselves:
BRIDE & GROOM
request the pleasure of your company
at their wedding
on DATE, TIME & VENUE
OR
BRIDE & GROOM
invite you to share the moment when
they exchange there marriage vows
on DATE, TIME & VENUE
OR
BRIDE & GROOM
will be joined in Holy Union in the Presence of God
Witness their vows, share in their Love
and celebrate with them
on DATE, TIME & VENUE
When the Bride & Groom together with there parents cover the costs:
You are hereby invited to share with us in the presence of God the joining of
BRIDE
BRIDE'S PARENTS
and
GROOM
GROOM'S PARENTS
in marriage
on DATE, TIME & VENUE
OR
Together with our parents,
BRIDE'S PARENTS
and
GROOM'S PARENTS
you are cordially invited to
join the marriage of
BRIDE and GROOM
on DATE, TIME & VENUE
When parents of the Bride or Groom are divorced or remarried:
You are cordially invited to the wedding celebration of
BRIDE NAME + SURNAME
daughter of John & Susan
(without surnames)
and
GROOM NAME + SURNAME
son of Peter & Joy
(without surnames)
on DATE, TIME & VENUE
When both set of parents cover the costs and are hosting the wedding:
BRIDE'S PARENTS &
GROOM'S PARENTS
invite you to share in the joy
of the marriage uniting their children
BRIDE & GROOM
this celebration of love will be at the
WEDDING VENUE on the DATE at TIME

Photo Credit: modernmagazin.com