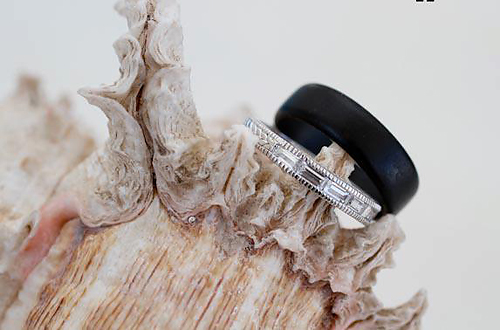 About the Bride
Margaux is a 30-something that lives with Derick on a farm on the outskirts of Joostenbergvlakte. She works as a décor and lifestyle stylist for a big retail company and run a décor range with her now husband from home. They were dating for five years and knew each other for 11 years prior to dating so getting married was the most natural next step. Margaux is so grateful to have made this commitment to her best friend and love of her life.
About the Groom
Derick got married on his 30th birthday and lives with Margaux on a farm on the outskirts of Joostenbergvlakte. He runs the décor range called D&M made with love with her from their home. Getting married to his best friend was the most logical next step in sealing their commitment to one another.
How did you meet?
We met at school and were friends for 11 years before love blossomed. We fell in love at Derick's brother's birthday party on a farm in Elgin and became inseparable after that beautiful weekend amongst the apple blossoms.
How long were you together before the wedding proposal?
Five years
About the Proposal
Derick took Margaux camping in Bainskloof (Wellington) and popped the question and she thought he was just joking around. The next week he took her to their local pub and asked again with the disclosure that this is not a prank but serious and she said yes with bubbly all round. It was great sharing the moment with our close friends from Joostenbergvlakte. It has become a big joke in the family that poor Derick had to ask her twice.
How far in advance did you choose to have your wedding after the proposal? And, why?
They set the date 9 months after the proposal because they wanted a Spring wedding on Derick's birthday. It was a very clever notion from Margaux as he will never be able to forget their anniversary.
How did you go about the wedding planning process? Did you do it yourself? How long was the planning process? How did you find it?
Margaux started planning the wedding a week after they got engaged. She approached it like she would a shoot by starting with a mood board to tie down the style, look and feel of the wedding and from there booked an appropriate venue to suit.
They decided on a simple, intimate and nostalgic beach wedding with a colour scheme of 'duck egg blue' and neutrals to play on 'something borrowed, something blue'.
She did a lot of research on finding the best service providers and got all the family involved to become part of the big day. From the photographer to the catering company where all family friends that knew the couple well and got the brief just right to suit their playful personalities.
Margaux made it easy on herself by starting the planning early and keeping it toned down and simple.
Did you have a hen party / kitchen tea / stag night / bachelor / bachelorette party? If so, what did you do and what did you enjoy most about it?
Margaux's bridesmaids organised her a champagne breakfast at D'Aria in Durbanville and a proper girl's night at her cousin's house the evening – Karaoke machine and photo booth with props included. The girls danced the night away.
Derick's best men organised him a legendary bachelors that will no soon be forgotten. They dressed him in red long johns and put him in a wooden frame with his head and hands sticking through tied up with cuffs. They hired a 'little person' in a top hat to drag him through the Waterfront while his friends threw him with bags of flour and water. They arranged with the Waterfront security to arrest the party for added fun. The guys ended off with a trip on the Jolly Rodger pirate ship out to sea.
Wedding Details
They got married on the most perfect sunny day at The White House Beach Villa in Pearl Bay, Yzerfontein.
Being flower season the Bedouin tent from Vermeulen tente was set up to include these spectacular splashes of colour. Hay bales (that was borrowed from a family connection from a farm in Darling) and hired vintage furniture created a casual lounge feel and guests was able to set where they wanted to add to the relaxed atmosphere.
Black and white pictures of the parents and grandparents where part of the décor because the couple wanted to emphasize the importance of family and roots.
Tarmin Fick our make-up and hair lady arrived and did her magic on Margaux, the mother of the bride and bridesmaids.
Margaux walked down the aisle with her dad to 'Dance me to the end of love' originally by Leonard Cohen but they chose the acoustic version done by 'The Civil Wars'.
Rev. Daniel Brits was called by the venues wedding co-ordinater Natalie De Gois (from NDG weddings) four hours before the wedding to please do the ceremony (due to the previous marriage officer that was booked not communicating for a week and a half prior to the wedding.
This could have been such a disaster but in retrospect it was the best thing that could ever happen on the day.
Rev. Brits gave the most special and sincere ceremony called the 'sand ceremony'. What made it even more special is that he briefed Derick and the best men on it all but Margaux had no clue as what was going to happen.
It was the best surprise a girl could hope for. Rev. Brits included Margaux and Derick's mothers by giving them little bottles of glitter sand to pour into a glass bowl – symbolising their consent for the union of their children.
The couple then had to walk to a clearing and pour out the sand to rid them of the past to walk this road as husband and wife. After signing the register and 'you may kiss the bride' they were bestowed with confetti in the form of popcorn and blue otees to add to the playful theme.
The catering company – Malita Joubert Catering – served canapé style food throughout the evening. Starting with light starters and building it up to the mains like little mini burgers and chips and then to deserts. The food was served in the most unexpecting containers like sardine cans, shot glasses and little bamboo boats. It was a feast for the eye and tummy.
Wedding cake was in the form of cupcakes with soft Kalua centres. With soft green icing and wrapped in a lace collar that was made by Margaux's cousin Pauline Botha.
With a variety of guests with such different taste in music the couple opted for a touch screen juke box from hire-a-jukebox that pre-programmed our play lists and was such a fun element to have at the wedding.
Toasts were kept short and luckily everyone kept to the rule. It was still very powerful and heart felt without people loosing concentration.
The photographer – Elizma Hayman – took the wedding party to the beach just before sunset and also kept it short and sweet so we were back to party the night away with friends and family.
The couple insisted that all our guests stay over in Yzerfontein so there's not drinking and driving involved and set up the direct family in the venue (which sleeps 6) and the rest in Die Duinhuis just down the road.
Margaux & Derick stayed over in the honeymoon suit which was on the top floor of The White House with a bed overlooking the sea.
Tips and / or advice for future bridal couples?
Don't book anyone off the internet without doing a Google search on them. The wedding officer that didn't show for our wedding was listed on Hello Peter countless times and we didn't bother to check beforehand. Rather use service providers that have a good reputation or are suggested by friends and family that have used them before.
It's also very easy to get caught and get overwhelmed by the planning. Take time out with your husband to be to have nights where you talk about anything except the wedding.
Things will go wrong on the day but don't let it spoil one bit of this once in a lifetime experience for you. Things work out exactly the way they should.
My sister's maid of honour dress got ironed by her domestic worker that burnt a hole in it the afternoon before the wedding. She went to the closest mall and bought a beautiful dress at the last minute in the exact same colour as the original. Keep calm and laugh it off or as Derick and I said to one another about 100 times on the day – just 'wing it'!
Marriage is truly a very spiritual and emotional connection to the love of your life and that's the important bit.
What was the most memorable part of your wedding day?
Rev Daniel Brits's ceremony and the fact that he drove from Simons town to Yzerfontein at the last minute to marry us in spectacular fashion.
Seeing Derick in a suit and Margaux in her wedding dress for the first time at the altar and having all the incredible people that are part of our life together in one place to share this amazing experience and our commitment to one another.
Did you go on honeymoon? If so, where? And, why there?
Derick and Margaux went to the Karoo on honeymoon. They decided to take the road less travelled and visit places they have never been before.
They started in Doringbaai and from there went to Loeriesfontein, Calvinia and Niewoudtsville .
They met the most incredible friendly and giving people along the way and had an unforgettable time that will always be cherished.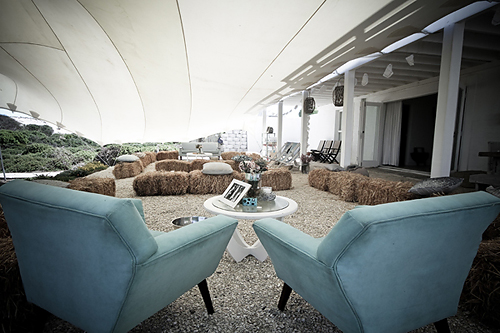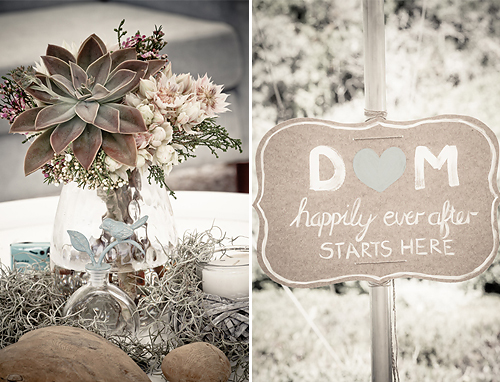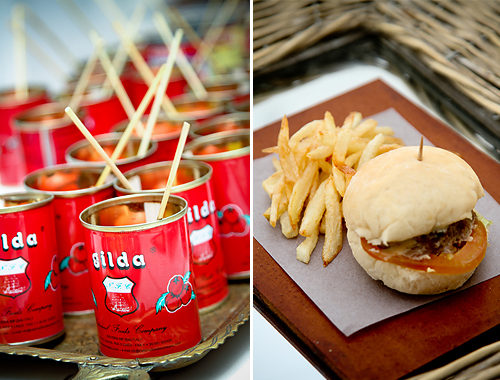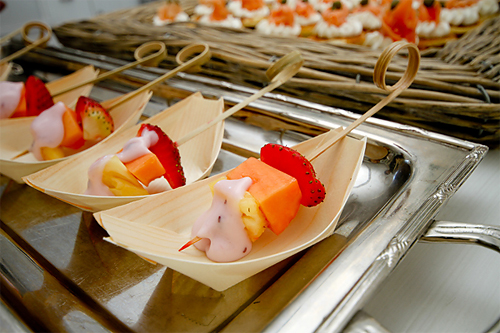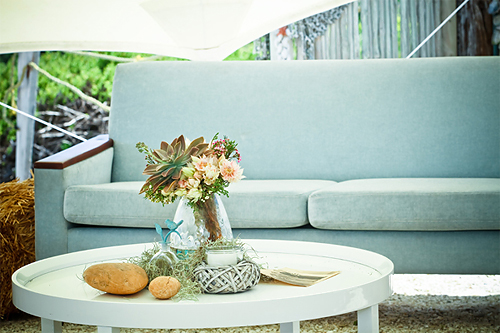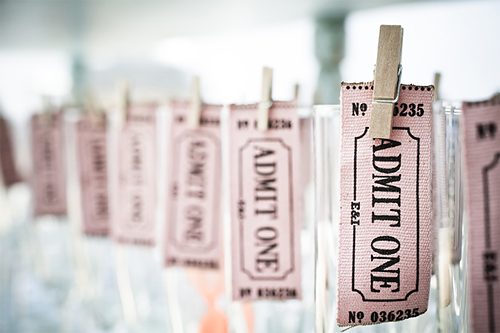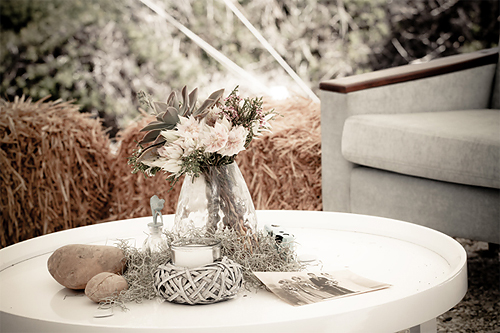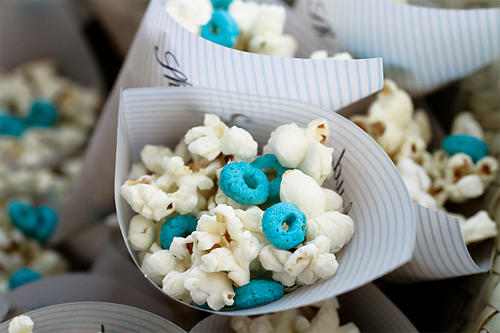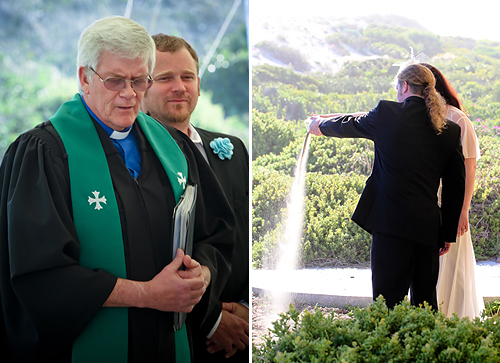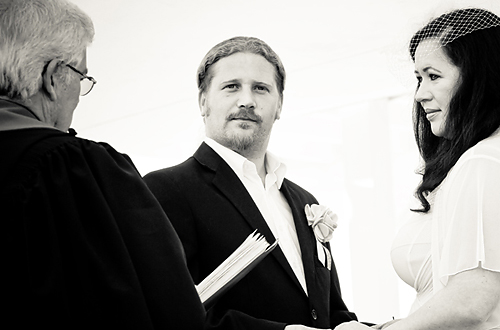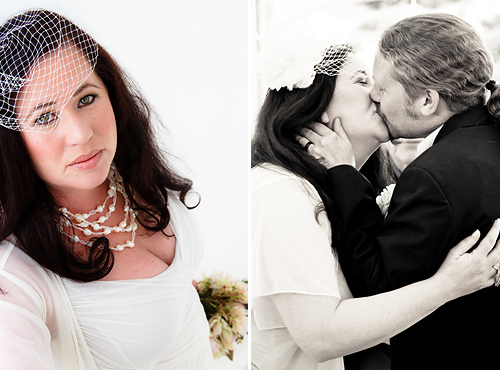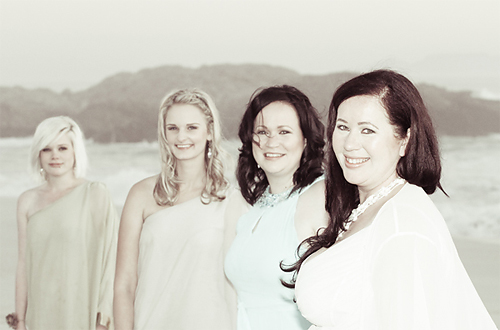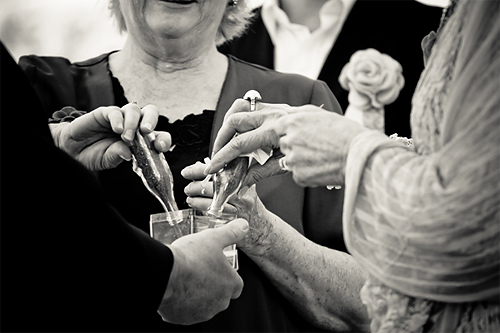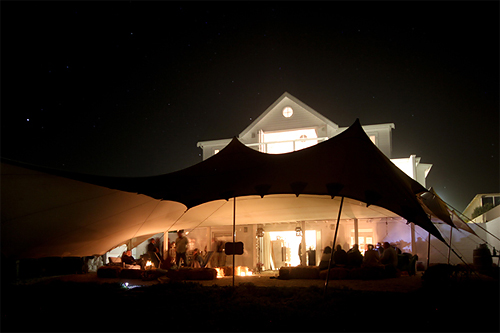 Wedding Details
Reverend: Rev. Daniel Brits
Wedding Planner: NDG Events
Photographer: Elizma Hayman
Cake: Pauline Botha
Caterers: Malita Joubert Catering
Wedding Venue: The White House Beach Villa
Category: Cape Town Weddings