Weddings for the Physically Disabled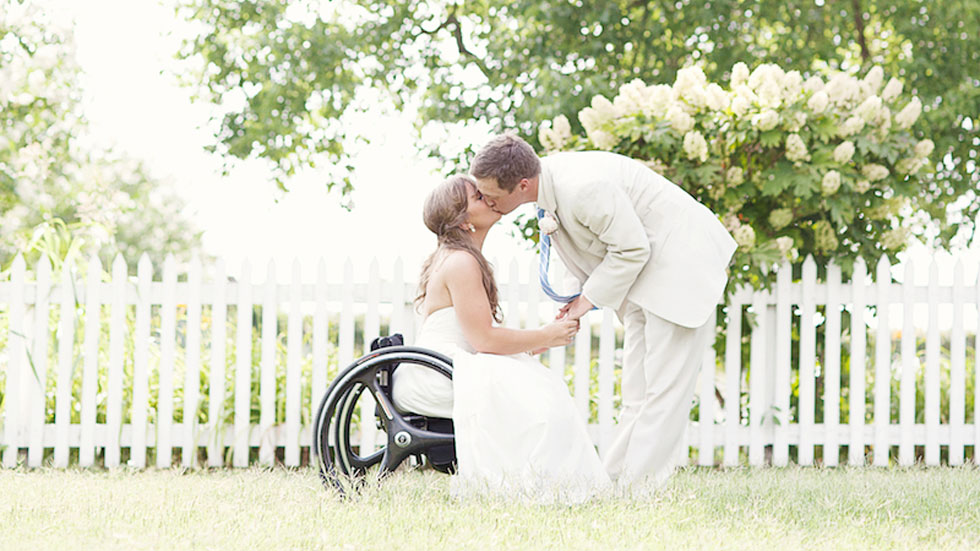 Accommodating physically disabled brides and grooms requires a little more planning and preparation in order to make this day every bit as meaningful, comfortable and memorable as any other wedding day. It requires only clear briefing sessions and communication with your ceremony and reception wedding venue, as well as potential practice runs before the day.
If you are confined to a wheelchair, ensure that you have physically checked the accessibility of your venues before booking them. Many venues classify themselves as being wheelchair-friendly when, in fact, they only have a ramp for the outside entrance, for example.
The aisle will need to be made extra wide if one or both members of the couple are in a wheelchair. This may involve moving chairs. Church pews may present more of a challenge, as they are sometimes bolted to the floor or there is no room for manoeuvre. Once at the front of the church, it may be best for the physically able partner to sit alongside their bride or groom so that they are at the same eye level. Likewise, you may even request that the bridal entourage sits down.
Once at the reception venue, the bridal couple will want to get around the room to greet and thank guests for their attendance. Make sure that the wheelchair-bound partner is not confined to a specific area of the room.
The first dance is a special tradition that the bridal couple and their guests anticipate with keen excitement. You may need to be slightly more creative if one or both of you is in a wheelchair, but you should not rule this element out of your wedding completely. If the bride is able, she may sit on her groom's lap while they move the chair. Alternatively, introduce a sense of humour and choreograph a special wheelchair dance for guests to enjoy and then participate in.
Deciding on a wedding dress or suit is always tricky. However, ensuring that your outfit is flattering, attractive and comfortable while sitting in a wheelchair presents even more of a task. If you are paralysed, you may not feel if the dress or suit is pinching or cutting off blood circulation, so be sure to keep the back and bottom as simple as possible. Brides in a wheelchair can make a feature out of the back of their dress and their hair, as this is clearly visible above the back of the wheelchair. There are many places that stock or make wheelchair covers. A cover that compliments or even matches your outfit is fun and aesthetically pleasing.
Brides and grooms that are visually impaired should become familiar with the venues in advance. They should be able to navigate their way around so that they feel confident of their ability to walk down and up the aisle, find the restrooms and negotiate the dance floor without too much hassle. If you are expecting guests with visual impairments, make programmes, song sheets, menus and place setting in Braille or large print so that these ones are able to participate in your special occasion. If you have to use a seeing-eye dog, ensure that the venue is informed, and that your guide is familiar with the layout of the rooms.
Those with hearing impairment will need to familiarise themselves with the vows and songs so that they may say these without concern that they are saying or repeating the wrong words. Likewise, they will need to practice the dance so that they are not relying on its beat, which may be difficult or impossible to discern.
The preparations that you need to make are specific to your own physical challenge. With open lines of communication as well as a determination to have what is important to you on your wedding day, it certainly will prove to be a memorable event.
Photo Credit: blog.etsy.com