Cherie and Petrus { True Love }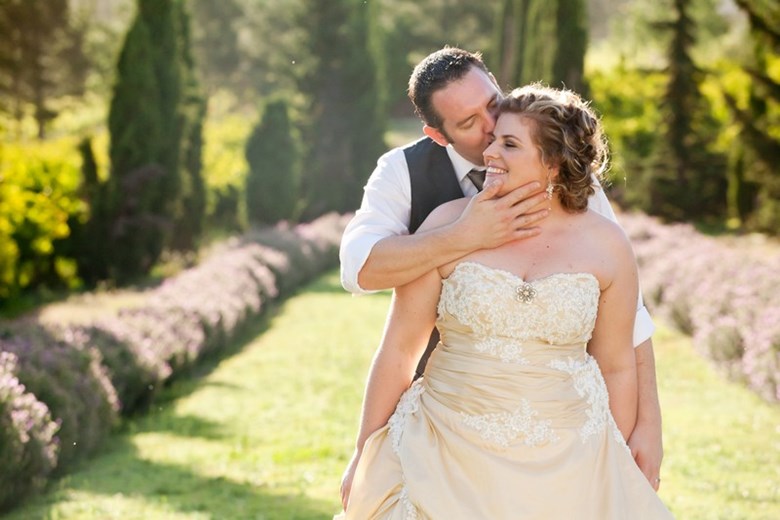 Date and Time: 2 November 2013 at 15:00pm
Wedding Location: Olivello & Marianne Wine Estate, Stellenbosch
About the bride
I am 30 years of age. Living in Protea Valley, Bellville. I am the owner and artist at my studio called Ck-ramics Pottery Studio in Bellville. I wanted to get married, because when I met him, I knew without a doubt that God has planned our lives to become one. He was exactly who I wanted.
About the groom
I am 35 years old and currently reside in Protea Valley, Bellville with my lovely wife Cherie. I am an electronic engineer and currently work in the vehicle-telematics industry in Stellenbosch. The year following my graduation (2009) I spent travelling to pay off my student loans while working in the mining industry. After settling my debt, I decided to change my career and settle down in the Cape Town northern suburbs in 2010. A few months after moving into a small town-house in Protea-Heigts in Brackenfell, Cherie came knocking on my door to inform me that I had left my vehicle's lights on. It turned out that she lived just two houses down the street! A friendship started and evolved into a relationship and eventually became an engagement. Cherie is a lovely person with a really soft hart. She has a good sense of humour and exceptionally creative talents, from pottery to cooking. The longer we dated the more I realized that she was unique, one of a kind, a diamond everybody had somehow overlooked. A perfect match for me. That's why I decided to marry her!
How did you meet?
Petrus was my neighbour in a complex I use to live in. When collecting mail one day I saw a car's light on and being neighbourly knocked on the door to inform him of the lights. To my shock, this gorgeous guy opened the door…after I got over my shy mumbling… We chatted for hours outside, as if we knew each other for years…. From there, it is all history!
How long were you together before the wedding proposal?
Officially 11 months
Tell us about the proposal
I booked a table at the same restaurant (Pistachio's in Durbanville) where we had our first date (exactly one year earlier) to the day. I reserved the same table, but this time with candles, lilies and sparking wine. We were going to celebrate our first date anniversary – nothing more – yeah right. I needed to conceal the wedding ring in some way. I came up with the ingenious idea to wrap the engagement ring up as a present. I then wrapped the present into another present and again and again – until I had a quite sizeable wrapped 'present' with a red ribbon and all – not resembling a small engagement ring box at all.
I now had an anniversary present that I could carry with me, in the open right in front of Cherie without giving anything away. It was perfect. I even had two 'explanations' to choose from: An anniversary gift or a slightly early birthday present. (Our first date just happened to be three day's before Cherie's birthday). My idea was to give her the gift at the start of the evening but only allow her to open it at 11 minutes past 11pm on the 11th of November 2011. The evening went very well and at the right time she started to unwrap the present. As she unwrapped the one layer after the other it gave me enough time to get out of my chair and to take a knee in front of hers. I caught her by surprise - and she said YES! (Before I could even finish asking!) We were unexpectedly greeted by a standing ovation from a large group of people from another table who saw the whole thing! They even sent us complementary glasses of champagne!
How far in advance did you choose to have your wedding after the proposal? And, why?
Ideally we wanted to get married about 1-2 years (or when we felt financially was the correct time) after the proposal. But due to lack of finances we actually had no idea!
How did you go about the wedding planning process? Did you do it yourself? How long was the planning process? How did you find it?
Shortly after we got engaged I started compulsively buying wedding magazines and books. Being a creative person and coming from an extremely creative family the choice to do it ourselves was a no brainer. In the beginning of 2013 we went for marriage prep through our church, even though we had no plans of getting married (due to lack of finances) but felt we had to go anyway. A month later we had a date and I started planning. (see whole story under wedding details) I had about 6 months to plan from beginning to end. I absolutely loved the planning, getting suppliers, making a mood board, changing my ideas at least 4 times before I believed it was perfect.
Did you have a hen party / kitchen tea / stag night / bachelor / bachelorette party? If so, what did you do and what did you enjoy most about it?
I had an amazing kitchen tea with so many of my close friends. My mom and sister really went all out on the food, it was themed Cinderella fairy tale. (just like how our wedding happened). I was overwhelmed with gifts! We had lunch at Cape Garden Centre and after we went to Moyo in Big Bay. I enjoyed spending time with my friends and just having fun!
The bachelors was a surprise weekend away, my wife secretly packed my bags and arranged my pick up from work on a Friday where I was taken to a great little house near Greyton. We fished, laughed, braaid and relaxed. I mostly enjoyed that it wasn't a huge party, but a relaxed weekend with friends and spending time together in the beautiful environment.
Wedding Details

By mid March 2013 Cherie lost her father, god father and Petrus lost his grandmother, so to say the least, 2013 started very badly. We decided to do something positive and we went to marriage preparation through our church. It couldn't hurt. We felt we had to go, but had no intention of getting married as we were in debt. During marriage prep we where so inspired and encouraged by our pastor, other couple's testimonies and God, we decided to start planning.
We found our venue by accident coming from viewing a hideous venue. We wanted to go have coffee and just take a time out. Driving into the parking lot and seeing this gorgeous shed, set against trees, vineyard and a pond, Petrus said, THIS is where he wants to get married. Even though the venue was way out our budget we booked a date anyway, trusting God will provide. Petrus took out a small loan to start paying deposits. We tried keeping costs as low as possible and to make as many décor items ourselves. Realizing that even with doing this ourselves, getting married was not cheap, as most suppliers where so expensive. So I started doing my homework. I fished for cheaper suppliers, drove to places never seen before and googled till my fingers went numb. Eventually we saved quite a bit, on just taking time to source suppliers that was reasonably priced.
Petrus's father blessed us immensely with finances and every time that out budget was all dried up, money just appeared again without us even asking. God just gave and gave and gave even more than what we ever imagined. Every single supplier we used that was to be present that day was amazing. Our photographers where impeccable and affordable, see the pictures yourself. The live duo band, which I only corresponded with via email, the DJ, the chef's food was amazing and the photobooth was a lot of fun.
We had a whole team of best men and bridesmaids, Cherie's mom included, setting up the Friday evening at the venue. The next morning bright an early we set up the little beautiful chapel area on top where the manor house is. We had snacks and the make up and hair was started. Whilst the men went for lunch and swam in the pool below the manor house. An half an hour before the guests arrived they had to be chased out of the pool to get ready.
Photos where taken, which actually was a lot of fun as the photographers told me exactly what to do and how to pose. So I wasn't nervous at all.
Guests where driven up with a tractor to the chapel area. Everyone received tractor ride tickets in the wedding invites. They where welcomed by the best men and bridesmaids and received a wedding newspaper made by my master of ceremonies, Laurita Smal. Accompanied by live music while they waited. My mom walked me down the lawn towards the chapel where my groom awaited me. Whilst the duo band played the wedding march. We couldn't walk side by side down the isle as I didn't take into my account how wide my dress was. It was slightly funny.
I was amazed that I didn't cry (a lot) only when Petrus did his oath, I think I only then realized that I get to spend the rest of my life with this amazing man that loves me with his whole heart. And I was so grateful and humbled by the road we travelled to get where we were then and there.
After our very long kiss(es) which people started laughing, we signed the wedding registry and crazy little thing called love by Queen played as we made our way to our guests. We where met with gorgeous red and white rose petals. We then all walked to the wine tasting area where a large group photo was taken and we had pre drinks and snacks with the guests. The photobooth was also set up there. For the pre snacks we had two cheese stack cakes beautifully decorated with breads and biscuits. Home made lemonade with a kick was served and the décor tags made by my mom and sister that was on the glass bottles. The photo sessions started and the tractor took the guests down to the venue.
When we where done with the photos the tractor unfortunately forgot about us (which looking back now is quite funny) and we drove down with the photographers.
The speeches and celebrations began. We ate gorgeous food. Starters where 5 smaller portions of varies foods which was sweet potato samoosas, carpacio, snoek pâté, stuffed peppadew and a lovely small salad. Mains were steak with mushroom sauce, varies vegetables and wedges. Dessert was a trio of coffee crème brulee, imported belgium chocolate mousse and meringue fruit nests. We cut the cake and danced the first dance under a starry sky and gorgeous sky lanterns to the melody of Sarah Brightman and Cliff Richard's, "All I ask from you".
Giving my work and what I do for a living I love attention to detail. Every little bit of the wedding day had our signature on it. Self made wooden signage boards indicated guests where to be from the road to the chapel and to the waiting bench where the tractor came to fetch the guests. Save the dates was ceramic magnets presented in origami hearts I folded myself.
I made all the wedding invites and seating tags from porcelain clay. The thank you gifts were ceramic under plates, made by myself and Marianka Stolsie. With our wedding colours and a special scripture for the guests.
We made cootie catchers which indicated where guests sat on each table and the whole venue was decorated with origami birds which Petrus and many others folded. I think there were about 500 folded in total. Petrus also made all the wooden boxes which doubled up as planters, which were part of the table décor. We hired blue glasses and cutlery to complete the romantic feel we where going for. Cherie's mom made the napkins which were presented in paper napkin holders we made ourselves. As the guests arrived they where treated to lindt chocolates at the venue presented in a wooden box from my grandfather and a frame with our initials on and decorated with my grandmother's jewellery and flowers, also made by Cherie's mom.
Small medi tins could be found in the bathroom for each guest. With a plaster, headache tablet, heart burn tablet, safety pin and breathe mint. The hand towels embroidered with Mr and Mrs Prins. The wedding cake was made by my mom and sister. My grandmother's wedding dress was the table covering and my grandparents mirror stood behind the cake, making the cake corner a feature. I decorated the guest book where guests had to put in one of their photobooth strips and a paper bird cage was placed next to it for gifts. The tables had tulips and lilies on them done by my mothers and we had placed water proof lights at the bottom to give it a bit of a glow. Then there where candles on the tables and gorgeous paper lanterns outside with remote controlled led's which was a wedding gift from my cousin as he has a business importing such lights.
We gave the best men and bridesmaids their complete attire presented as pretty as we could possibly think of. Also to say thank you for all their hard work and help! Overall we had a magical romantic wedding. More than we could have wished for. We started with debt and with no hope and ended up being blessed beyond belief. I always tell people when given the opportunity, it was like God knew our hearts and He didn't just bless us with a wedding, He blessed us with a perfect wedding and some more! Settling wasn't good enough for Him, but blowing our minds was His goal. We could not have done this without God. Our year started so terribly and ended off being the best memories of our lives.
A month after our wedding we were blessed to such an extent that all our debt was paid off through money received unexpectedly from an outside party. Our scripture we shared with our guests on the wedding plates: Matthew 19:6 So then they are no longer two, but one flesh. Therefore, what God has joined. Let no man separate.
Tips and / or advice for future bridal couples?
Remember that the wedding is about you, your husband and if you are a Christian, God. It's about the unity you promise to each other and no one else. Do what makes you happy, you get to be a first time bride once in your life. Don't sweat the small stuff. Things will not always go as planned, stay focussed on what is important. Is the groom present and is the pastor present, if so…nothing else should bother you!

Trust in God and know He will provide.
What was the most memorable part of your wedding day?
Standing on the steps before walking down, taking a deep breath and realizing this is happening. When the pastor asked my wife to turn around to show the guests how beautiful she looked and she took a little bow. The long kiss, both of them and the first dance, which felt like we where the only tow people on the whole planet. The weather, as it was showering the week before, but we had a perfect day.
Did you go on honeymoon? If so, where? And, why there?
Yes, even though we actually decided that due to lack of finances we would not be able to have one. But Petrus decided to sell his motorbike and we had an amazing honeymoon at Timamoon Lodge near Sabie, Hazyview, Mpumalanga. Why? Cherie had seen the destination years before and she said one day when she gets married, she wanted to go there. It was breathtaking and even more beautiful than their photos! Money well spent and highly recommended. We will return there hopefully on one of our anniversaries.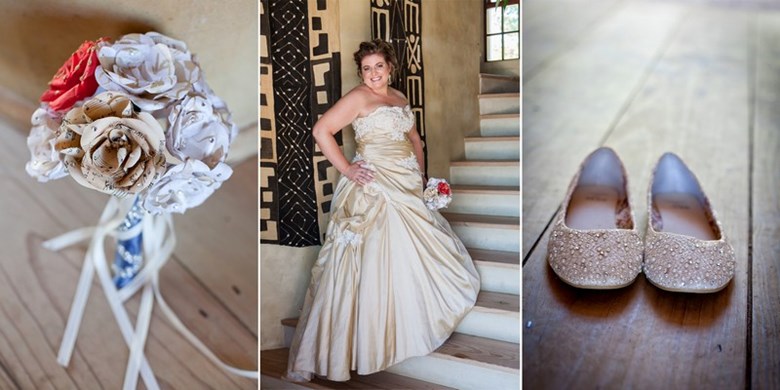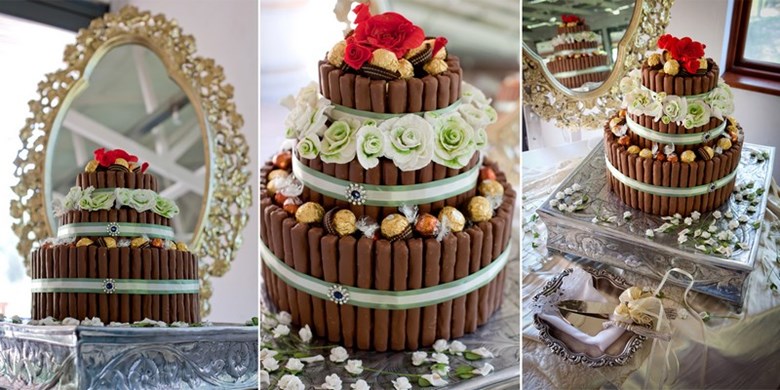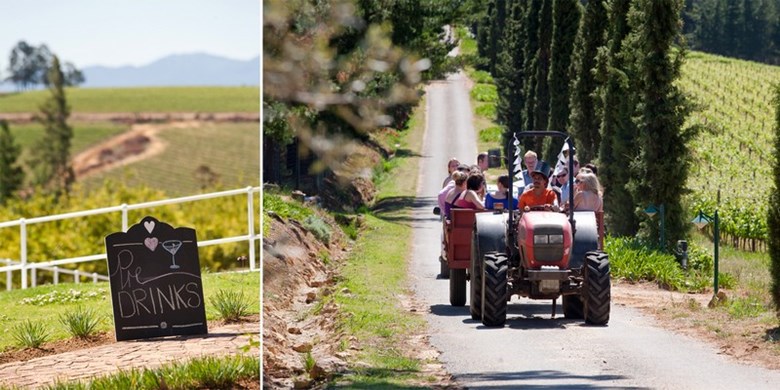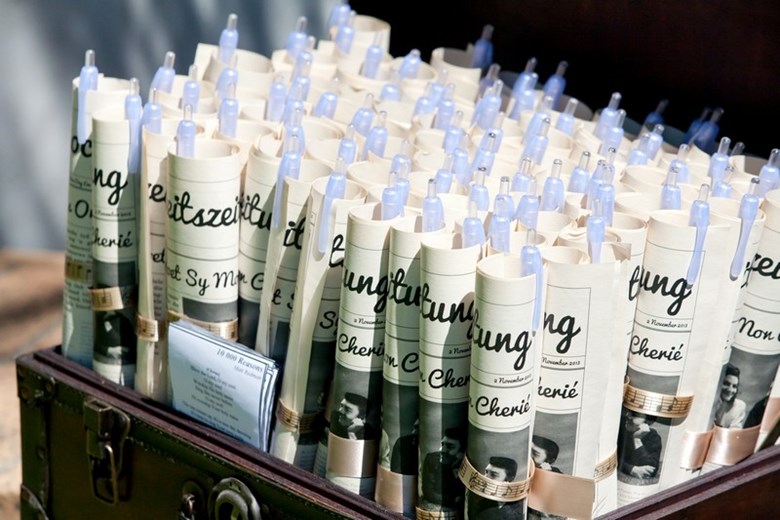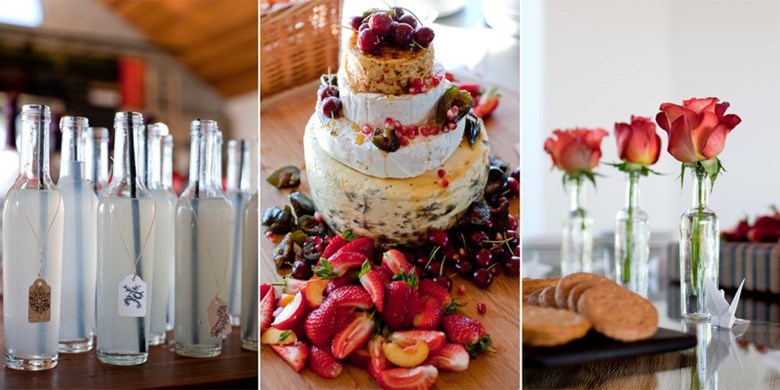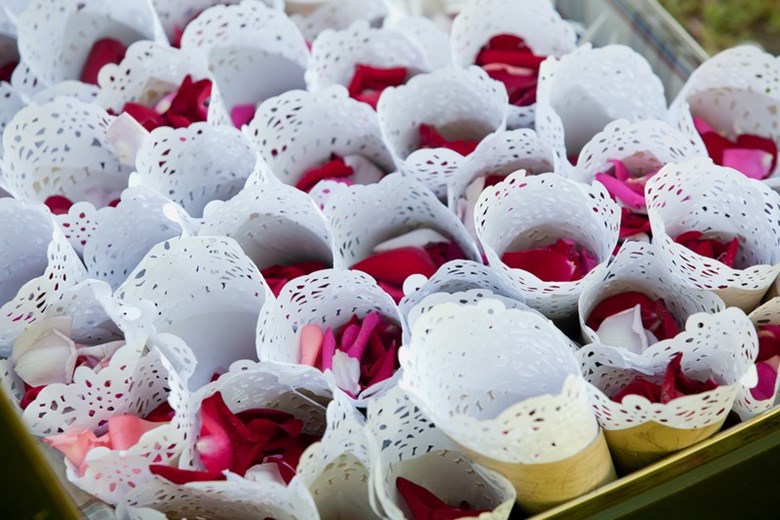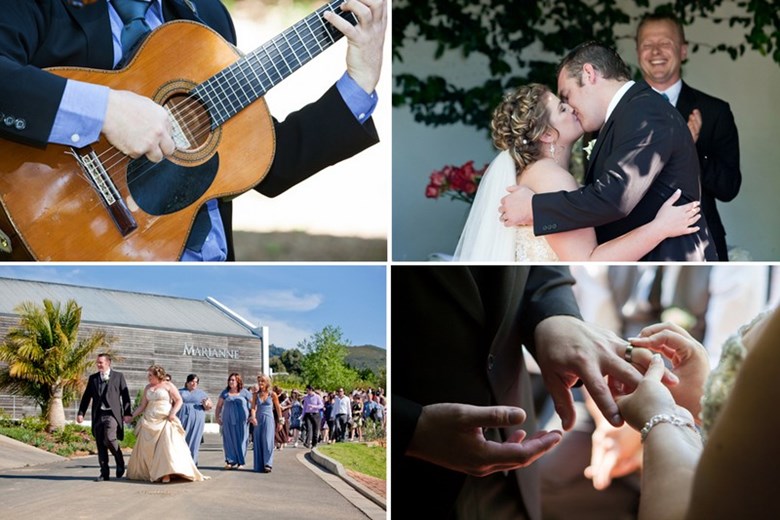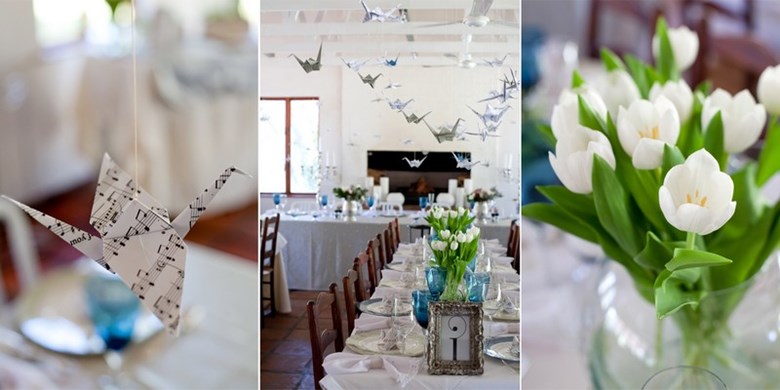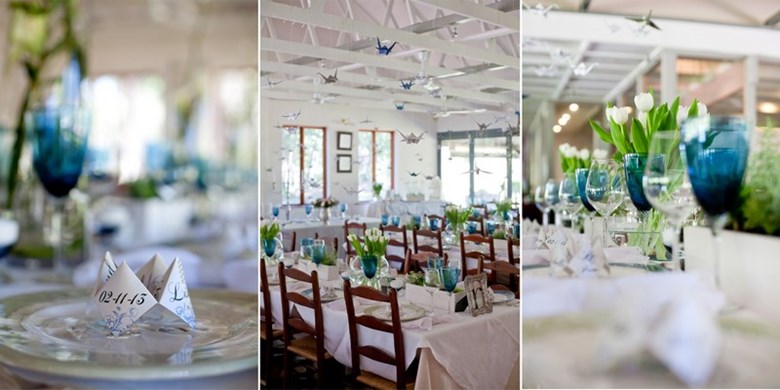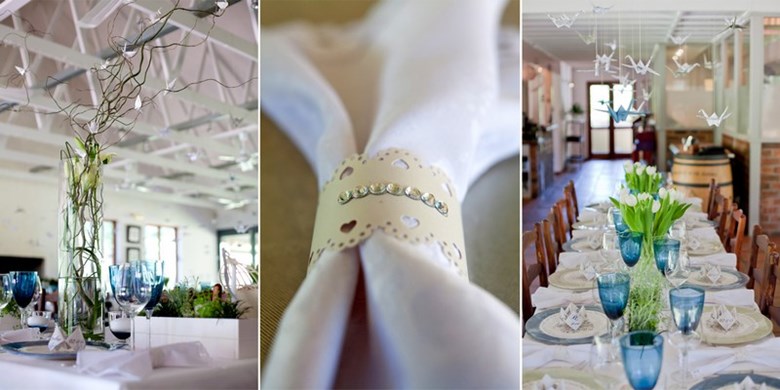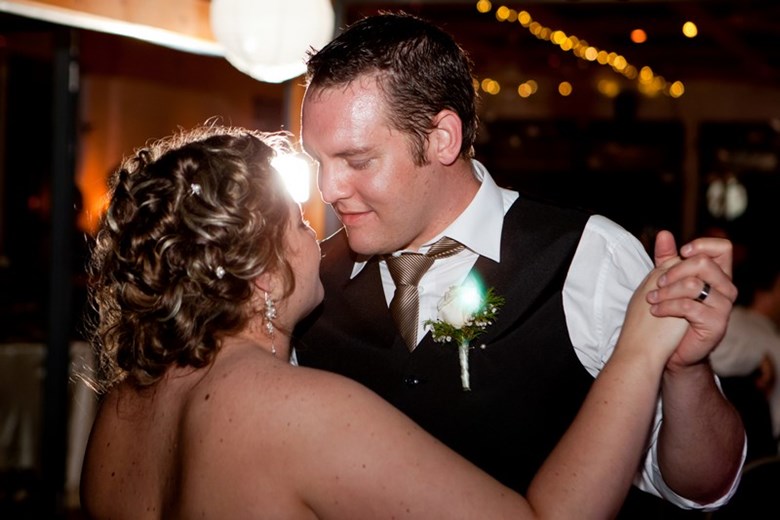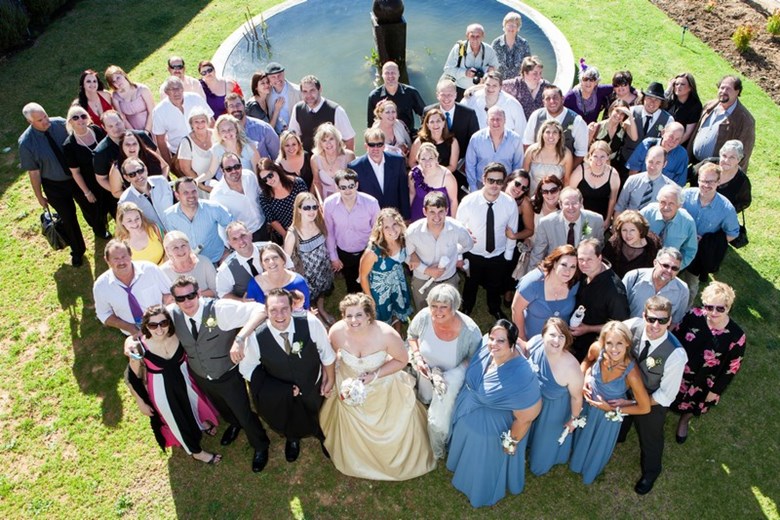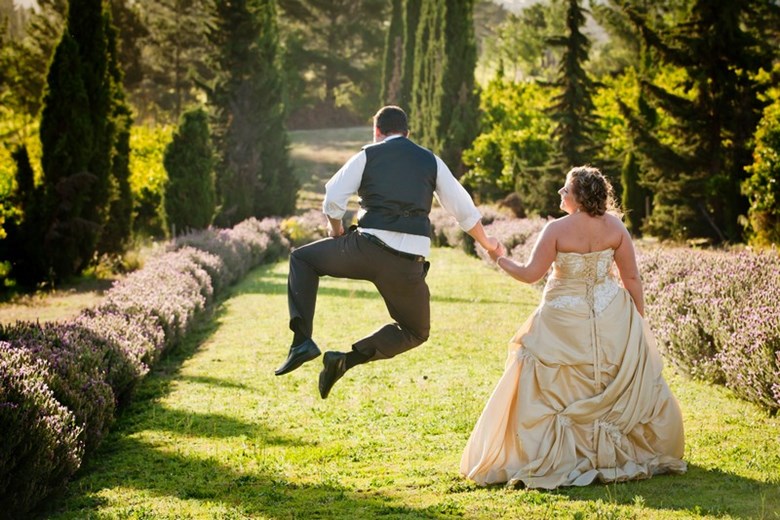 Credit:
Photographer: Expressions Photography

Hair & makeup: Marzanne Gericke

Dress: Chiqwawa

Musicians: Palm Strings Duo

DJ: Crystal Clear Entertainment

Florist: Linda Kossmann

Lighting (waterproof LEDS and remote controlled LEDS): Party Dazzle