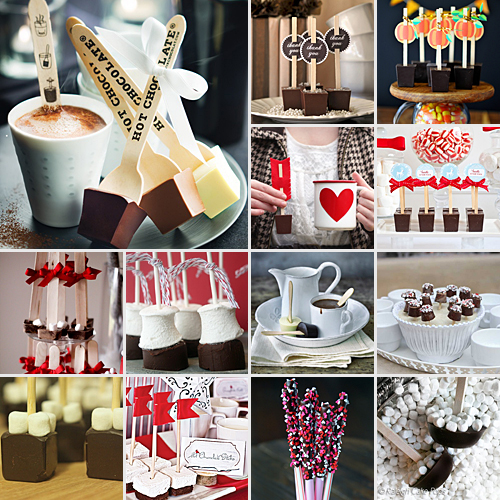 If you thought there was no way to make chocolate any better, think again! Chocolate-on-a-stick is pretty much the smartest invention since chocolate itself. The idea is to dip the chocolate-topped stick in a mug of hot milk and turn it into instant and delectable hot chocolate.
This simple yet tantalising wedding day DIY project is quick and easy to whip up at home, even if you're no master in the kitchen – here's a basic step-by-step:
INGREDIENTS:
1/2 cup of heavy cream
400 g can sweetened condensed milk
3 cups semisweet chopped chocolate or chocolate chips
3/4 cup unsweetened baking chocolate
Wooden sticks – stirring sticks or ice cream sticks
METHOD:
Line a 45 x 45 cm pan with baking paper.
Carefully heat the cream and condensed milk over low heat until steaming (not bubbling).
Remove mixture from the heat and add all the chocolate. Allow it to melt.
Once the chocolate is partially melted, (after about 10 minutes), place the chocolate mixture on the stove at a low heat to melt the rest of the chocolate.
Whisk chocolate mixture vigorously until it becomes thick and glossy.
Gently pour the mixture into the lined pan and shake gently to level it off. Smooth the surface with a spatula.
OPTIONAL: Sprinkle with cocoa or embed mini marshmallows in the top of the mixture.
Leave overnight to set slowly at room temperature.
The next morning, while chocolate is still semi-soft, poke the wooden into the leaving approximately 3 cm between them.
Place in the fridge for a couple of hours, until the chocolate is hard.
Remove from the fridge and run a knife around the edge of the pan. Turn the chocolate brick out onto a clean cutting surface. Heat a knife in boiling water, wipe dry before each cut and cut the chocolate into cubes.
The chocolate sticks can be kept at room temperature in an airtight container for two weeks. Should you want to make them further in advance, place the airtight container in the fridge or freezer where they can be kept up to 30 days.