Bloemfontein Weddings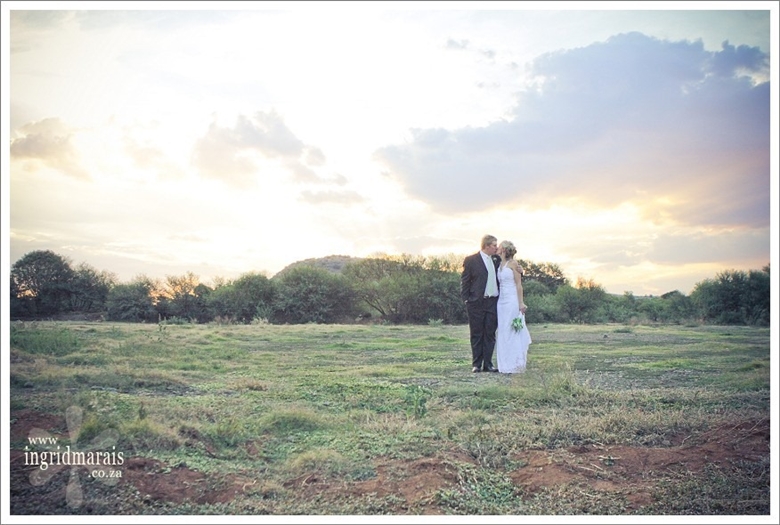 The beautiful city of Bloemfontein is the capital of the South African province of the Free State. Dubbed "The City of Roses" for its stunning blooms and "place where the cheetah dwells" for its being one of the natural habitats of this magnificent animal, Bloemfontein certainly promises much in the way of natural beauty and abundance. The Free State is, in general, admired for its golden, undulating hills, clear blue skies and sandstone mountains. It is flanked by the Orange River and the Vaal River. These natural wonders have inspired artists and photographers from all over the world to try and capture just a segment of such awe-inspiring grandeur.
However, Bloemfontein is also a viable city centre, boasting major commercial, marketing, financial and retail resources. This means that brides-and grooms-to-be as well as professional wedding planners have a host of caterers, wedding gown designers, decorators, entertainers, photographers, videographers and more right at their fingertips. All being located within the borders of Bloemfontein mean that all resources are accessible and convenient, making them easy to collect for the wedding and then return after the event.
Being so rich in natural diversity as well as being a commercial hub means that Bloemfontein is particularly flexible in terms of the settings and venues that it offers prospective bridal couples. Whether you want to have a summer brunch in the garden, a picnic in the park, a grand affair in a glittering ballroom or a trendy cocktail evening, Bloemfontein has just the venue to accommodate you.
Some popular wedding venues include:
Shekinah – an authentic bush venue for a true South African experience.
Slightly Nutty – ideal for wedding ceremonies and receptions, Slightly Nutty guarantees professional service and a friendly atmosphere. In addition, they will handle the décor (including the flowers) and catering for your big day.
Aldersgate Centre – with its stunning glass-backed chapel and country-style ambience, this is ideal for brides and grooms that want to incorporate some of the Free State beauty into their celebrations.
Bloemfontein is perfect as a honeymoon destination, as there are many gorgeous retreats in which to laze around and enjoy the pampering you deserve after months of planning. As a popular tourist destination, it is also amply equipped to accommodate any of your wedding guests that decide to extend their stay to include a vacation. Some local attractions and activities include:
The City Hall
The Anglican Cathedral
The Dutch Reformed Twin Tower Church
The Bloemfontein National Museum
The Women's Memorial and War Museum
The State President Swart Park
King's Park (home to over 4000 rose trees!)
Boyden Observatory
Bloemfontein Zoo
Modenso Park Model Steam Trains (a Sunday afternoon treat for the whole family)
Maselspoort Resort on the Modder River banks
The Windmill Casino
The Free State National Botanical Garden
Lock Logan Waterfront
King's Park Arts and Craft Market
The Farmers' Market in Langenhoven Park
The many pubs, clubs and restaurants
Township tours
Photo Credit: www.ingridmarais.co.za