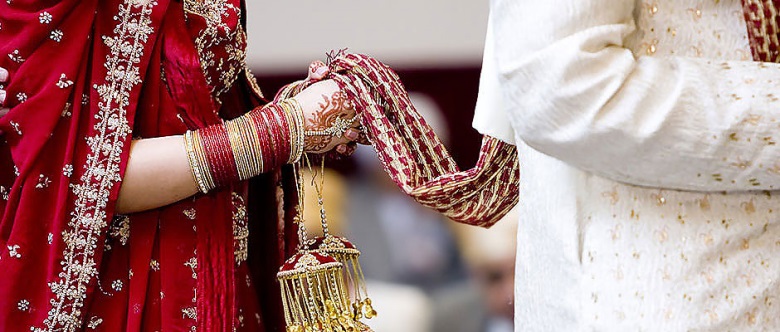 Although Asia technically covers the entire area of Russia, India, and the East, most Asian-themed parties focus on the Eastern (Chinese, Japanese, and so on) and Indian elements of this vast continent. Because of the rich culture and fascinating heritage of these countries, a wedding with an Asian theme can be beautiful, memorable and very special. This is a great theme for couples, whether or not one or both of them enjoy an Asian heritage themselves.
Colour Scheme
Asian colours invoke images of earthy spices and breathtaking natural landscapes. Therefore, deep burgundy, rich red, rusty orange and a natural mustard-yellow are ideal. In addition, countries such as China and Japan tend to lean towards royal blue, postbox red (considered to represent good luck) and a vibrant magenta (or 'hot pink'). A major characteristic of Asian textiles is the embossing and embellishment thereof. Patterns, tassels, and floral embossing are typical of both Eastern and Indian styles.
Attire
Unlike many other lands, both Indian and Eastern brides and grooms usually don brightly coloured outfits with opulent, meticulous details. In addition, brides can wear up to four different outfits through the course of their wedding day, giving them the chance to feel like royalty as they are spoilt for choice and variety. The specific styles of the bride's dress will vary, depending on the country they wish to represent. Indian brides may wear a veil in the colour of their dress, but Eastern brides seldom don this headpiece.
The groom and groomsmen can wear a sherwani, which comprises a knee-length (or longer) shirt or top worn with full-length trousers. This can be any colour, and is embroidered or embellished in a similarly detailed fashion to the bride.
Bridesmaids at your Asian themed wedding will look gorgeous in colourful kimonos, saris or knee-length Chinese-style dresses.
Décor
As with all things Asian, colours and textures play an integral role in the décor of your wedding venues. Include the following fun elements and / or ideas in your big day to create the ideal Asian ambience:
Use bamboo placemats.
Place a pot of honeyed Green Tea on each table instead of water or fruit juice.
Incense sticks or bamboo in an ornate traditionally Asian vase make for fabulous centrepieces.
Instead of a conventional style of centrepiece, use a woven wicker basket filled with different spices or a trained snake (referring to the Indian snake charmers). Ensure that guests do not touch or hurt the animal.
Serve meals in commercial Chinese take-away boxes or using the crockery and cutlery used in Asian restaurants.
Remember that Asian cultures are characterised by symbolism and detail, so incorporate these elements into your décor wherever possible. While it may seem to be over the top, it will be very effective in conveying the theme.
Guest Favours
Guest favours are a small gift left for each guest as a sign of your gratitude that they attended your wedding. All too often, bridal couples resort to a chocolate or nuts. While tasty, it is always great to have something relevant to your wedding theme and a little more personal. Here are some ideas for the Asian-themed wedding guest favours:
A folding fan.
A set of personalised chopsticks.
Candy sushi.
A home-made blend of Indian curry spices with an accompanying recipe.
Personalised fortune cookies.
The guest's name written in Chinese or Japanese characters with a short, personalised note attached.
A lantern and accompanying candle.
Photo Credit: www.asianweddingplanners.com