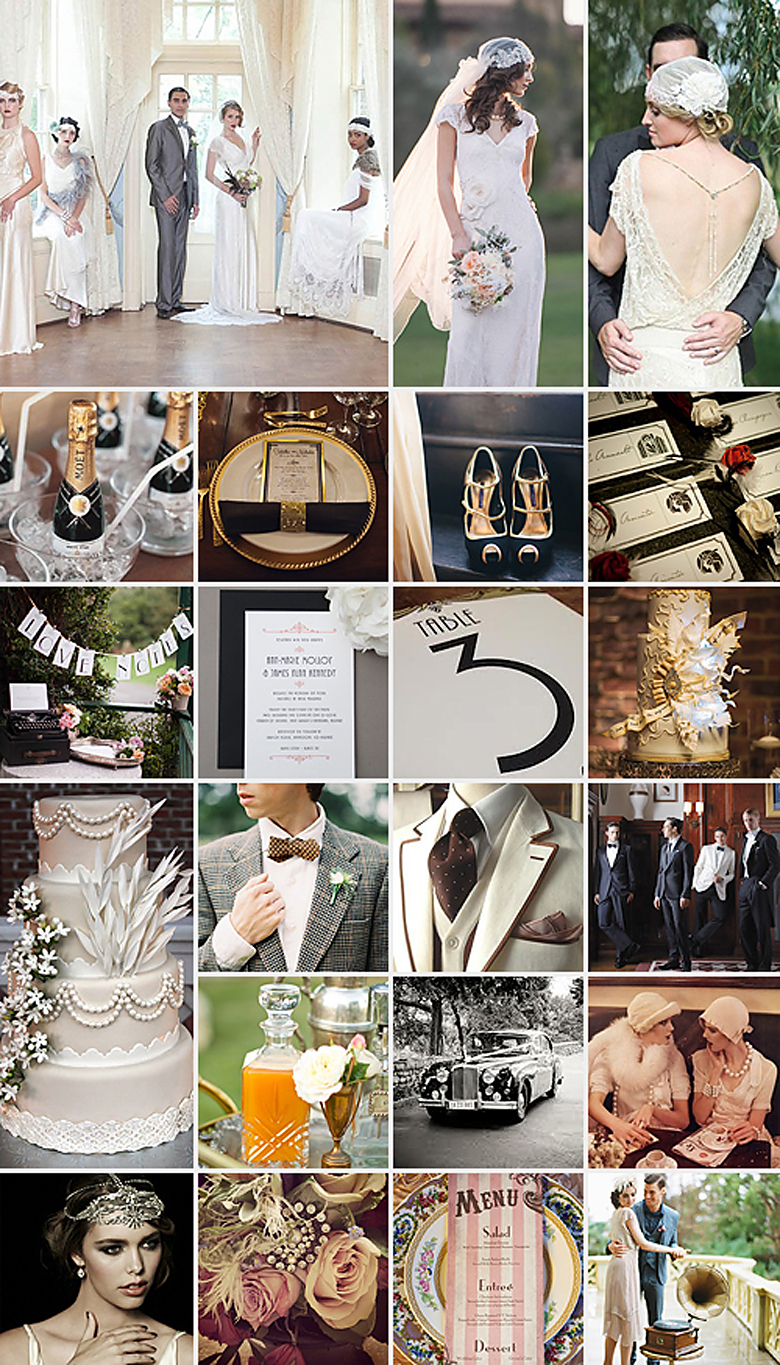 Born in the wrong era – if that's you, then this theme has your pretty name written all over it, in capitals and underlined. With the coming release of The Great Gatsby movie, it's no surprise that 1920s Gatsby fever is brewing in the wedding world. And what's not to love! The pearls, the feathers, the dancing, the music – it's really all about creating a fun and social ambiance, and combining glitz and glamour with feminine antiquities.
So, let's travel back in time to the hay-days and bling it up, Gatsby style:
Opt for a wedding dress with a dropped waist, loose and simple yet flattering fit, and plenty and plenty and plenty of lace and pearls.
You simply can't go wrong with an elaborate hair accessory – whether it be a feathered fascinator, head band, lovely hair jewels or embellished hair scarf, the 20s are famous for hair glam.
An old brass horn gramophone player is simply a must! Alternatively have your DJ add a husky and scratchy sound effect to your playlist to mimic the sound of 20s party music.
The 1920s was of course the rise of the art deco era, so play around with sharp lines and angles to add a little drama – check out our post on art deco cakes for inspiration.
Instead of the traditional guest book, set up an old typewriter where guests can type up their words of congratulations.
Feathers are a must, especially in your bouquet and table arrangements.
Fancy, lip-smacking cocktails are a must for the ladies, and be sure to set up a little cigar and whisky corner where the gents can talk business.
Take it a step further by hiring a smoke machine to give the venue that cosy 1920s cigar and karaoke bar feeling.
Decorate the venue walls with large black and white glamour shots from back in the day, and play around with quotes out of the Great Gatsby novel.
Apply small touches of gold to add a sense of luxury to the occasion – gold-rimmed wine glasses, dainty gold jewellery and golden cake décor are just a few key examples.
For more Gatsby Wedding Ideas and inspiration plus the original photos and their credits, please check out our 1920s Gatsby Inspired Pinterest Board!