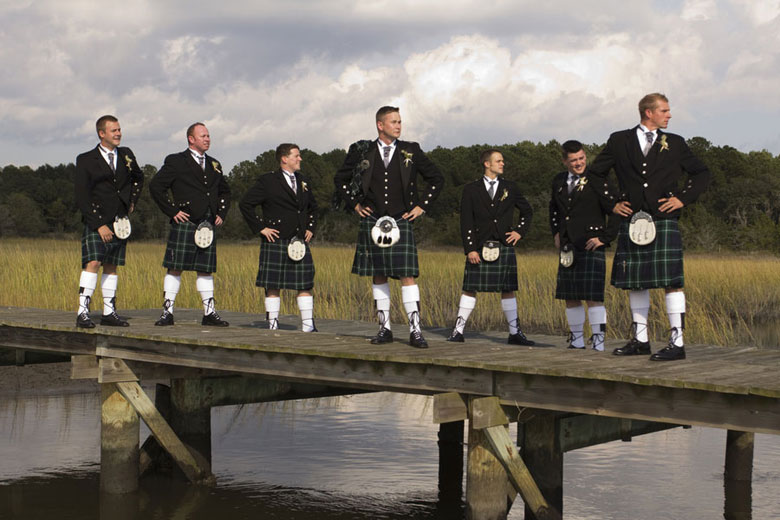 The bride- and groom-to-be may select an Irish-themed wedding for a number of reasons; whether they are of Irish descent themselves, or simply enjoy the charm of this exquisite country. The Irish are a fun, vibrant culture, known for their ability to party and their world-class whisky. For an all-nighter of a wedding, choose this merry theme.
Theme Colours and Symbols
The iconic colour of Ireland is green. It is used extensively in representations of four-leafed clovers (or shamrocks), ivy and mischievous leprechauns. It also evokes images of the rolling green hills of Ireland, which tumble across the landscape in romantic splendour. Therefore, a vibrant grass-green or a more subdued bottle-green would work very well as a theme colour. Alternatively, traditional Irish weddings were characterised by the colour blue, which was seen to represent purity and innocence. Therefore, this too is a suitably Irish option.
In terms of symbols, the shamrock, pot of gold and rainbow are all popular choices. However, there is also the Claddagh. This symbol is characterised by two hands holding a heart, which is topped by a crown. These represent faith, love and honour respectively. This is a great symbol to include in your décor or even your ring design.
Attire and Accessories
For a really Irish look, don a pale blue wedding gown. However, if you would prefer to keep it a little less 'different', consider a white or ivory gown with blue or green embellishments. These could include a vibrant green belt or a demure blue fascinator, which are still stylish, while being absolutely unique. Lace is also very Irish, so feel free to include this romantic detail.
The grooms, groomsmen and bridesmaids can wear blue or green to carry the theme through effectively. However, the styles or designs of their attire need not conform to any customary ideals.
In traditional Ireland, the brides would carry or wear herbs and spices with the belief that these would help to frighten evil spirits away. To carry this tradition through, add sprigs of pretty herbs to your bouquet or hairpiece. Another popular custom was to attach little Bells of Ireland or a horseshoe to the bouquet.
An important tradition is for the bride to put a sixpence or penny into her shoe for good luck. If you glue or tape it in, it should not be uncomfortable at all.
Décor
To create a venue that showcases the charm and loveliness of the Irish theme, use some of the following décor elements:
Silver or gold bells
Horseshoes
Shamrocks
Pots of gold
Leprechauns
Rainbows
Celtic knots
Ivy
The Irish are known for their verses of good luck and their traditional blessings. Here are some examples, which can be said in your vows, displayed on the tables, or given to guests as favours:
Irish Marriage Blessing
May God be with you and bless you.
May you see your children's children.
May you be poor in misfortunes
and rich in blessings.
May you know nothing but happiness
from this day forward.
An Irish Prayer
May God give you…
For every storm, a rainbow,
For every tear, a smile,
For every care, a promise,
And a blessing in each trial.
For every problem life sends,
A faithful friend to share,
For every sigh, a sweet song,
And an answer for each prayer.
For more inspiration, visit our blog post on having a St Patrick's Day Wedding.

Photo Credit: storyboardwedding.com