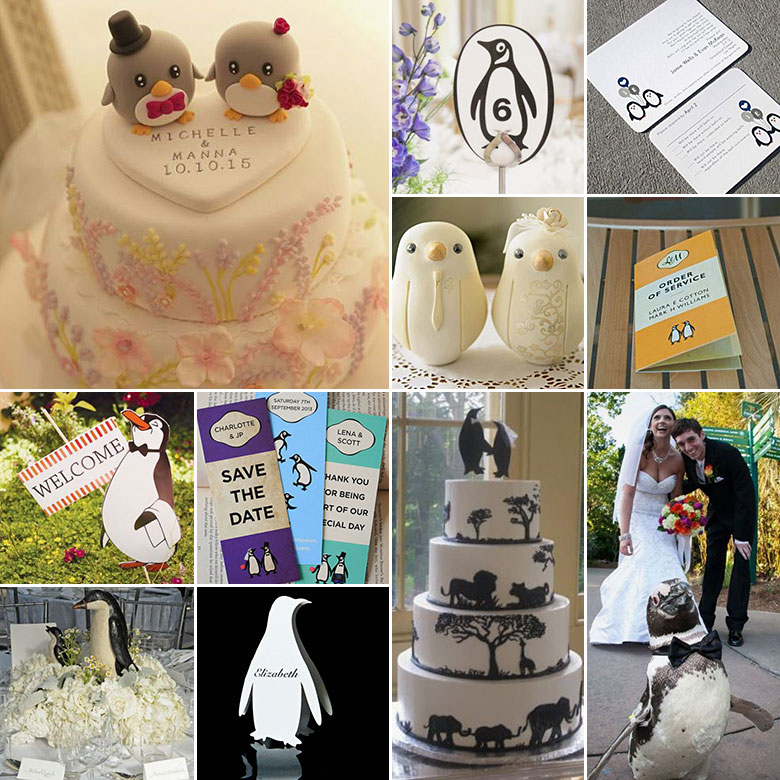 No matter who you are, you simply cannot deny the cuteness of the cuddly penguin. Whether it's the way they walk, the fluffy body or the little tuxedo they wear that's made you fall head over heels for these flightless creatures, no one will argue if you decide to go for a full blown penguin themed wedding celebration!
Opt for an overall white and black wedding colour scheme, with touches of silver.
Dress the groom and his brigade in stylish penguin suits – a must! Add an optional quirky extra with penguin printed bow-ties.
Decorate the wedding cake with a lot of mini fondant penguins, or top it with two cute little penguin toppers.
Spoil your guests with a selection of penguin shaped cookies and decadent chocolate truffles – the ideal favours.
Incorporate penguin designs into your stationery elements – for instance, kissing penguins on your invitations or penguin cut-outs for the place cards.
Find cute penguin printed fabric and use it to make your flower girl dresses.
As a thank you for their hard work, treat your bridesmaids to some cute penguin inspired jewellery.
Plant big cut-outs of penguins in the grass, and let them "hold" the signs to the bar, bathrooms, etc.
Original images and their credits available on Pinterest