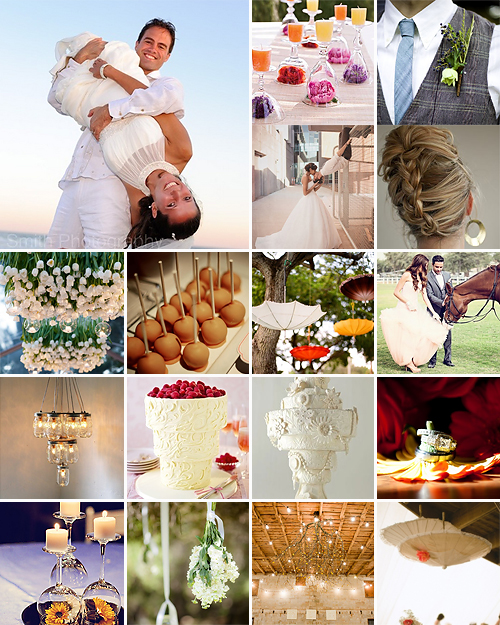 Let's face it: wedding planning has a way of upending your life to a certain extent, which is pretty much what this theme is all about! Drawing inspiration from all things weird and wonderful, an upside down theme is oodles of fun and perfect if you want to elicit that all-around "oh my!" reaction.
The challenge with this theme, however, is to create an overall whimsical effect without crossing the line to "clutter and chaos". To achieve this, don't just stick to physically turning everything upside down – think over and beyond the rim of the box! Here are a few ideas to get you going:
Suspend chairs, tea cups, umbrellas and doilies from the ceiling and trees.
Opt for an upside down menu, where dessert is served first, followed by mains and starters. Many male guests will thank you for this!
Turn the whole wedding venue upside down so to speak, by sticking "this side up" arrows on the walls, point downwards.
Place mirrors on the tables or floors so as to reflect the ceiling, creating the illusion of an upside down world.
Opt for hanging floral arrangements instead of traditional centre pieces, and place chandeliers on the floors and tables instead of suspending them from the ceiling.
Choose an upside down wedding cake or serve upside down pineapple cake as dessert.
Mix things up by letting the bridesmaids flank the groom and the grooms' men walk down the aisle with you.
Opt for a wedding dress that appears to be inside out, i.e. petticoat over the dress.
Pin pictures and posters on the wall – upside down of course.
Have a hanging picture session! For example, visit a local playground and hang on the monkey bars.
Place wine glasses upside down along the length of your tables, with a flower underneath each glass and a candle balanced on the foot.
Hanging elements have taken the wedding world by storm and quite frankly, it's perfect for this theme! Suspend each guest's napkin and cutlery above his place setting and place a pair of scissors on each table with which to cut loose – such fun!
For more Upside Down Wedding ideas and inspiration plus the original photos and their credits, please check out our Upside Down Wedding Ideas Pinterest Board!