Rose and Duane: Creative, Beautiful and Fun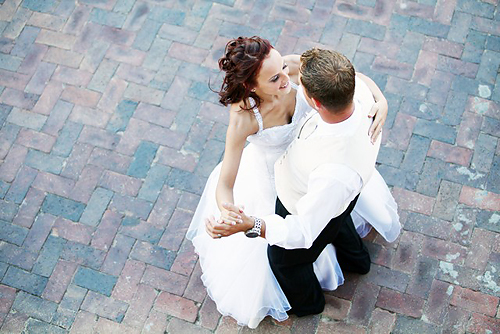 About the Bride
I'm 29 years old and am a PA.
About the Groom
Duane is 32 years old and has his own auto electrical business. We live in Durbanville with our two adorable Boerboels, Kimbra and Skrillex.
How did you meet?
We lived opposite the road from each other when we were in high school. Duane and his friends were chatting on his driveway one evening and my girlfriends and I gathered the courage to approach them and we have been inseparable ever since.
How long were you together before the wedding proposal?
11 years.
About the Proposal
We have a family tradition where we spend a few days at The Baths in Citrusdal every year.
We went ahead of the rest of the family and when we arrived at the cottage he told me that he had a present for me. He gave me a Kurt Darren CD (I am a huge Kurt Darren fan) and I was so excited, I wanted to play the CD right away. When I opened the cover there was no CD inside and I was so disappointed and then I looked closer and the ring was inside and then he popped the question. I was speechless and he had to repeat the question!
Eventually after I recovered I said yes! I loved that the family was there to share every moment with us.
How far in advance did you choose to have your wedding after the proposal? And, why?
We were married 2 years after our engagement as we paid for our own wedding and didn't want to put too much pressure on ourselves.
How did you go about the wedding planning process? Did you do it yourself? How long was the planning process? How did you find it?
My whole family was involved in the planning process and I appreciated everyone's input.
I was blessed to have Bridgitte Provoyer from Devonvale to help me with the planning process. Bridgitte was amazing, I met with her a few months before the wedding and she instantly understood what I envisioned and made it happen. She made the whole process so easy for me and I didn't have to worry about anything.
Having a planner made a world of difference.
Did you have a hen party / kitchen tea / stag night / bachelor / bachelorette party? If so, what did you do and what did you enjoy most about it?
My bridesmaids planned a whole day of activities and in doing so ensured that everyone could attend at least one part of the day. I was treated to a wonderful lunch at Meerendal and then we came back to my house for drinks and snacks. I provided the entertainment by showcasing my wifely skills by ironing one handed and fashioning dinner from scraps in my fridge! We then had a night out on the town. It was really special and I thoroughly enjoyed myself.
My fiancé and his friends went camping for his bachelor weekend.
Wedding Details
The ceremony was performed outside at our chosen venue. The ladies were given umbrellas and the gents white hats. While our photographs were being taken our guests were able to play games like croquet. I have many family members who live in England and during the speeches they were able to join us via Skype. Our wedding had a very elegant but relaxed feel to it.
Tips and / or advice for future bridal couples?
Relax and enjoy! Remember that this day is about you and your fiancé and your future together. Too many couples get stuck on what other people envision for the day.
We also did pre wedding couples counselling. Even though we had been together for so long we found out more about each other and it drew us closer together.
What was the most memorable part of your wedding day?
The actual ceremony, my uncle performed our ceremony and because he knows us so well it felt so special and more personal. We also loved our session with the photographers. My husband and I are not photogenic at all but our photographers made us feel so comfortable. We had so much fun driving to each location on a golf cart and didn't want it to end.
Did you go on honeymoon? If so, where? And, why there?
We didn't go on honeymoon as such as we couldn't close Duane's business for too long. We did escape to Langebaan after the wedding for a few days to relax and unwind.
Wedding Details
Category: Cape Town Weddings