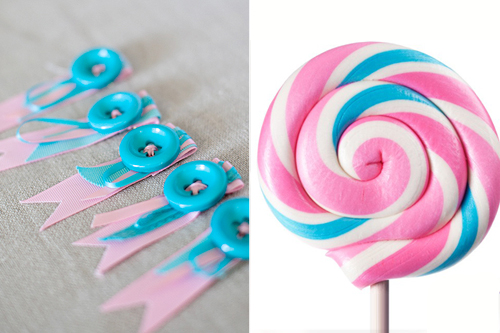 Julie Lim Photography | My Party Planner
"Remember the ice cream days, whistle to the wind and blow away the night,
With a penny in your pocket you can go to the shop,
Give your smile to the lady and see everything she's got…"
~ Lyrics from "Ice Cream Days" by Jennifer Hall
A pink and light blue colour scheme conjures up visions of carefree childhood moments filled with bubblegum and funfairs. The prettiness and femininity of pink and the softness and freshness of light blue compliments each other beautifully.
Here are some tips on having this colour combo:
Go all out with this colour scheme or add splashes of colour to an overall white theme.
Because these are such cheerful colours, use fun elements throughout your big day, such as cupcakes, bunting, cones filled with treats as favours, balloons and candy buffets.
Serve pink lemonade with cute sippy straws.
Wear a pair of pink heels under your wedding dress.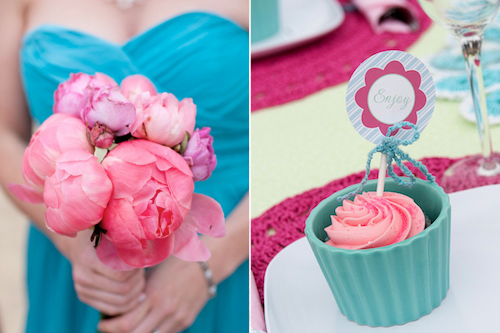 Style Me Pretty | Brenda's Wedding Blog
Paint short nails a fun pink to go with the theme.
Pair luscious pink blooms with a light blue ribbon for your bouquet. Pretty pink flowers include Orchids, Roses, Peonies and Lilies.
Fill blue tinted mason jars with flowers and place them around your venue.
Bring out the little girl in you by using pink tea sets and wine glasses on your tables.
Have a look at our inspiration board on Pinterest for even more inspiration!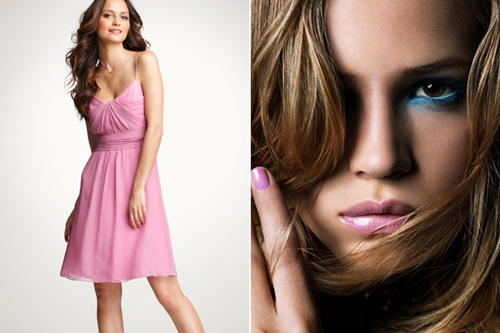 Bridesmaids Gowns | Lisa Eldridge